8 Best Task Management Software Options (Updated 2021)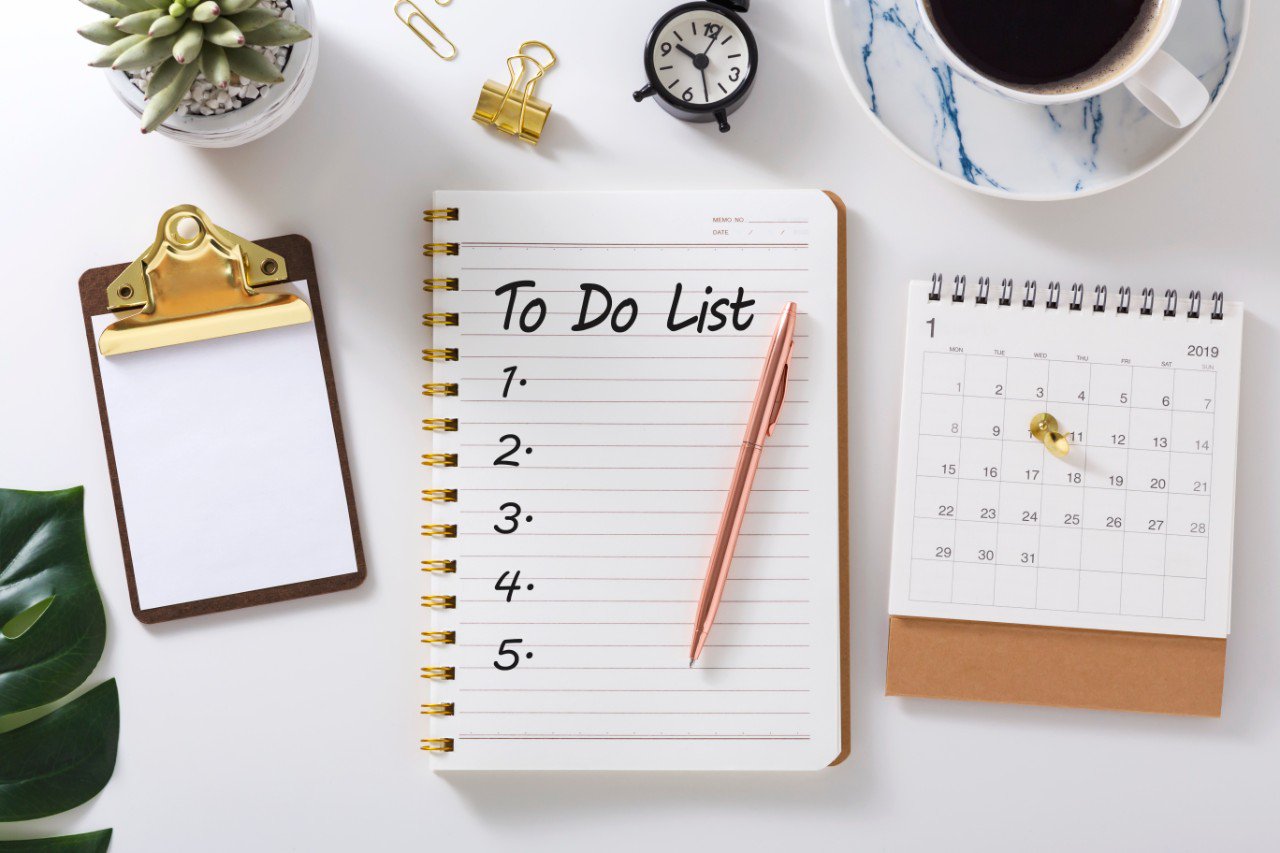 Above all else, task management is the core responsibility of any project manager. Managing budgets, resources, and people doesn't mean anything if a project manager isn't able to deal with the tasks at hand.
Task management software is the perfect tool for helping you keep your project in line, including your tasks, resources, estimations, cross-functional teams, and milestones.
Even if you aren't managing projects for a business or nonprofit organization, a task management tool is the perfect solution for maintaining control over your daily activities. In fact, I even use a task management application to keep my personal life in order.
That's why I've put together this list of the eight best task management software options that'll help you organize any project type or personal need.
---
What to look for in task management software
While it's entirely possible to manage project tasks using email and Google calendar, these options aren't optimal for task management. Any quality project task management software option will offer at least one of the following features, while the best incorporate all three.
1. Task creation and tracking
This is the most obvious need of any task management software. Whether you're dealing with task lists, kanban boards, Gantt charts, or scrum boards, your task management software needs some mechanism for recording and tracking assignments.
2. File storage
Tasks are easier to complete when all members of your team can find the relevant documents, images, spreadsheets, project proposals, and presentations. File storage capabilities allow you to centralize all of your project assets either through a document portal or individual task upload fields.
3. Communication
Managing tasks requires lots of communication, whether you're coordinating current events or seeking answers for the next steps. Most options on this list include comment sections within task windows, while others offer even more, such as forums and chat functions.
---
Our 8 task management software picks
Now that you understand what features make for quality task management software, here is my list of the best tools you can find. Each of these tools offers at least one of these features while most offer all three. I've even included an option for those managing their own personal projects at the end.
---
1. Trello
When it comes to task management and workflow systems, kanban methodology is probably my favorite. The simplicity and transparency of a kanban board gives project managers the ability to oversee the totality of a project, including the progress, process, and bottlenecks.
When it comes to software, Trello is easily the best kanban-based project management tool on the market.
Everything about Trello is simple and intuitive, making it a great task tracking software for project managers and teams of all experience levels. On the surface, all of your tasks are created and dragged across your kanban workflow as they are completed, but Trello has far more to offer than that.
In fact, for the sake of preventing a cluttered workflow, each task allows users to create subtask checklists for measuring the completion of those small details that would otherwise clog up your board.
Everything else you'd expect from a task management platform is included, such as file attachment capabilities, task labels, due dates, and even task templates.
Read The Blueprint's full Trello review
---
2. monday.com
Most software vendors are extremely risk-averse, which leads them to churn out slight variations on the same old tools we see over and over again. These vendors churn out Gantt charts, task lists, and workflows that look nearly identical to their competitors because no one wants to risk alienating buyers with something new.
However, monday.com took the risk to try something new and in my view, it pays off.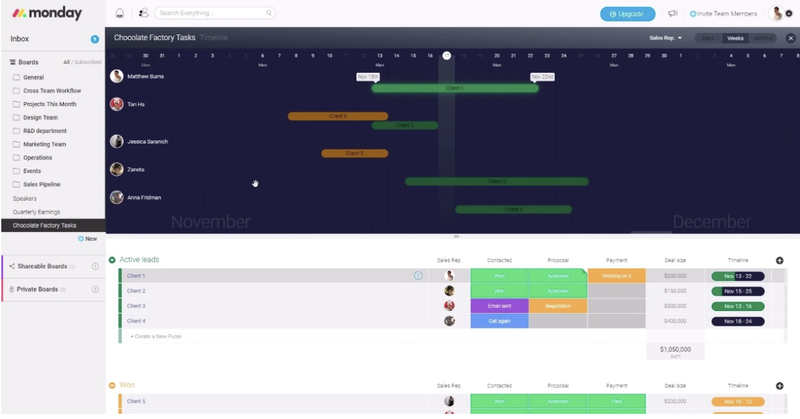 The developers for monday.com created their own proprietary task tracking system, called a "board" system with rows that house "pulses" (aka tasks) and columns for creating progress indicators.
These boards are easily transposed into other task management options or features, such as their unique take on Gantt charts, workload management, and even budgeting.
Despite creating a unique task management experience, monday.com maintains an exceptionally user-friendly experience that is easy to learn in a short period of time.
Read The Blueprint's full monday.com review
---
3. TeamGantt
Once you get past the high pricing tiers, you'll find that TeamGantt is an incredibly user-friendly project management tool reminiscent of an Apple product, based on its interface and experience. Nearly everything you do in this tool is already pre-built and ready for you to add your information and get going.
This platform holds your hand most of the way and that's perfectly fine. Users who want a simple, streamlined experience with plug-and-play functionality will like TeamGantt.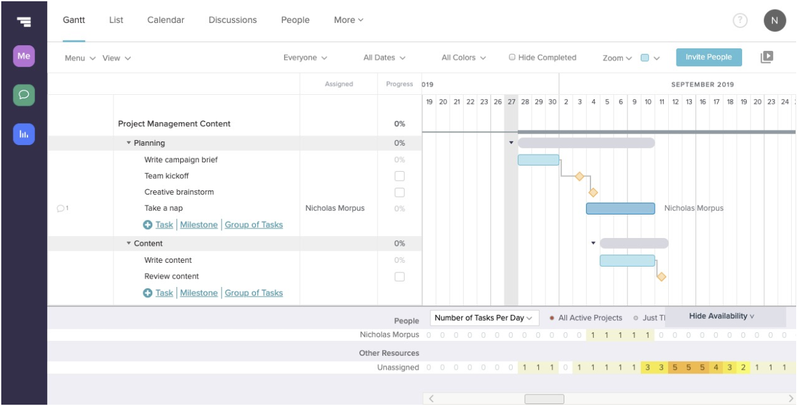 When it comes to task management, this software option obviously specializes in Gantt charts. Even the shared team calendar functions somewhat like a Gantt chart with task duration bars extending over the days they're in progress.
All of these features make TeamGantt the perfect tool for a project schedule. Task dependencies are also easy to create, making TeamGantt a fantastic option for those opting to use the waterfall methodology for their projects.
If the price tag doesn't scare you off, and it's a little above average, in my opinion, and you're looking for a solid Gantt chart option for task management, then TeamGantt is right for you.
Read The Blueprint's full TeamGantt review
---
4. Jira
Jira has seen many improvements over the years, which I credit to Atlassian's acquisition of Trello. Jira has come a long way from being one of my most hated project management tools to a top ten contender in my "best of" list.
This is not due to any particular unique feature or quirk, but rather the fact that Jira offers nearly anything you need to manage your tasks and tailors those features to your exact needs.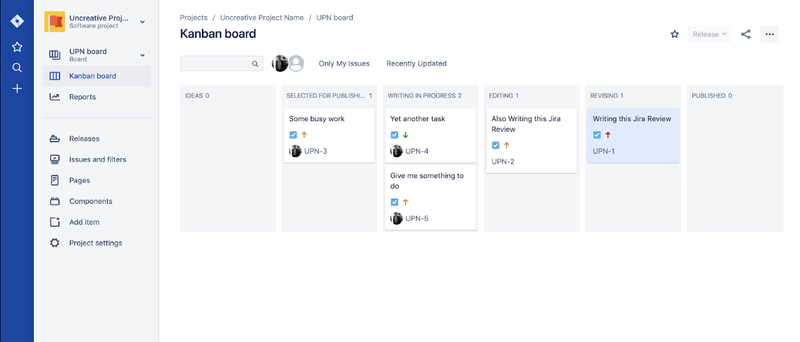 Right from the start, Jira walks you through a startup process that'll dictate the task management features and style you'll need to complete your project, whether it's kanban boards, scrum ceremonies, or process controls.
Once you choose your project and style, Jira molds itself to your needs, making for an exceptionally streamlined user-experience.
Read The Blueprint's full Jira review
---
5. Airtable
Airtable is an exceptionally versatile and aesthetically pleasing task tracking tool that enhances the dry nature of spreadsheets with the creative enthusiasm of a marketing software option.
What makes this platform so unique is that the developers prioritize visuals for the purposes of contextualizing different tasks and processes.
While Airtable's task management is primarily structured around spreadsheets, you also have the choice of using its kanban boards and proprietary gallery view feature.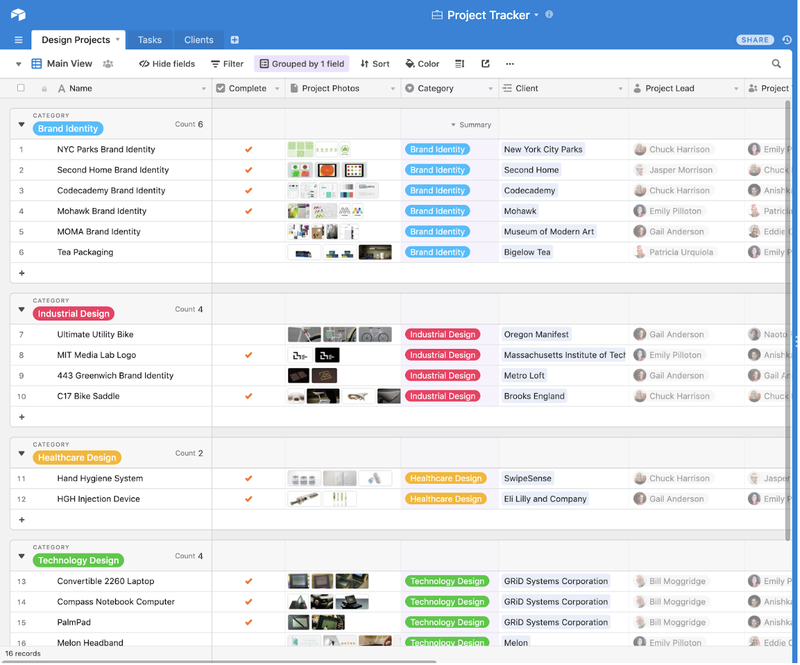 Even the spreadsheets in Airtable use images and colors to spruce up your project tasks and processes, making your work not only more enjoyable, but it's easier to categorize everything that passes through your execution process.
While I believe this task management platform is best suited for creatively-minded teams, such as marketing agencies or graphic design companies, the spreadsheet functionality of this tool makes Airtable a versatile tool for all kinds of projects.
This versatility especially comes in handy for those tracking and minimizing processes and product inventory through lean project management methodologies.
Read The Blueprint's full Airtable review
---
6. Asana
Asana's task management features, while quite standard, do more than just give you the ability to push your project along the workflow.
Everything about this software is built with the entire team in mind and this means a combination of a simple user interface, advanced workload management features to prevent burnouts, and an emphasis on team collaboration.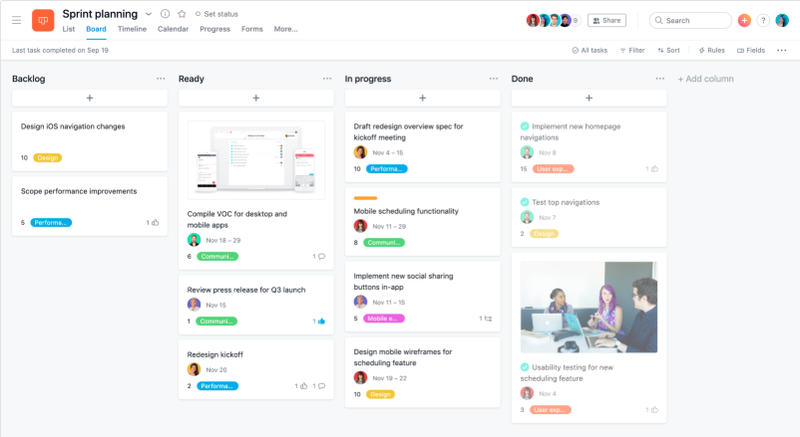 Unfortunately, Asana is one of the few options on this list that doesn't offer any native reporting features. While this doesn't hinder its capabilities as a task management platform, it is bothersome considering the fact that Asana tries to bill itself as a nearly comprehensive project management tool in its advertisements.
While reporting isn't absolutely necessary for task management, it is a helpful addition considering the audience and price point of this platform.
Read The Blueprint's full Asana review
---
7. Basecamp
Basecamp is task management boiled down to its very roots. This tool eschews all of the fancy features and quirks offered by other project tools and distills the workflow process to simple task lists, shared calendars, file sharing, and project forums.
It's virtually impossible to get lost while using Basecamp, making it a fantastic choice for teams new to task management software.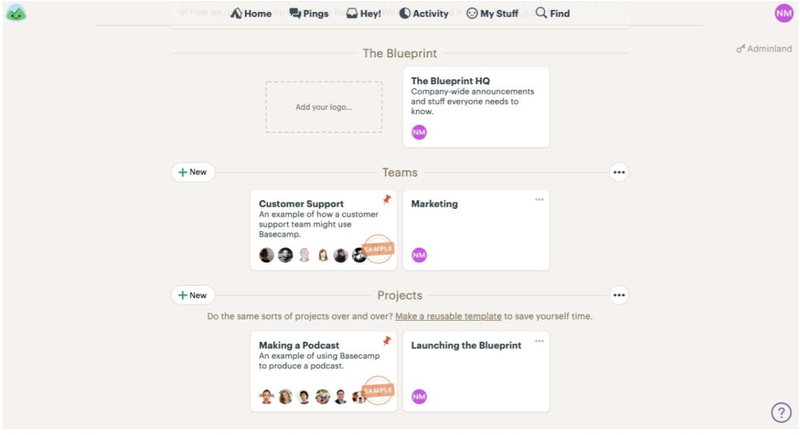 What's even better is the fact that Basecamp has just recently introduced a limited free option intended for freelancers, students, and families.
This further solidifies its position atop my list for the best beginner options for task management software, since the free option is only limited by the number of projects, users, and storage space. None of the features are held back.
Read The Blueprint's full Basecamp review
---
8. Microsoft To Do
I couldn't finish off this list without throwing a bone to those looking to manage their personal projects. Microsoft To Do is pretty much the gold standard for personal task list applications, in my opinion. It's free, it's simple, it's sleek, and it's surprisingly capable.
I even switched from using Todoist as my daily task manager application on my phone over to Microsoft To Do after using it to manage my cross country move last year.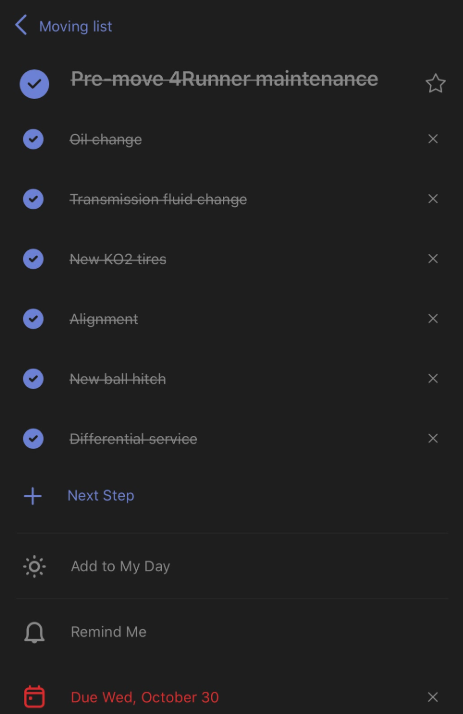 Before adopting Microsoft To Do, as I said before, I used Todoist and even paid the monthly fee for it. However, after using Microsoft To Do, I realized I was wasting my money and made the switch.
The UX for this application is buttery smooth, the dark mode-like user interface is great for saving battery life on my phone, each task allows me to upload files that I'll need for later, and I can even share my task lists with other users.
If you don't need all of the fancy features offered by other software options and you just want a simple mobile app to track all of your tasks, Microsoft To Do is my top recommendation.
Read The Blueprint's full Microsoft To Do review
---
The Blueprint is the perfect project management resource
Whether you found the right tool on this list or not, we've reviewed plenty of other project management software options complete with detailed insights into their features, pricing, benefits, and downsides. Once you've found the software you need, you've only scratched the surface with all of the helpful free content we offer.
There are lots of useful guides and how-tos for all aspects of project management and other business needs so you'll never be left in the dark during your next big assignment. Be sure to check them out.
View more information: https://www.fool.com/the-blueprint/task-management-software/