8 Best Drupal Alternatives for Your CMS in 2021
When you're researching to find the right content management system for your business, you'll likely cross-check your wants and needs with what's available.
During your research, you'll stumble upon lists of the best CMSes on the market, where you'll see popular options such as

Drupal, WordPress, and Squarespace.
If you've tried using Drupal as a website builder, you're probably wondering what else is out there.
Whether you need a system that's easier to use on the back end or one that lets you customize your brand, you can find alternatives to Drupal that will surely meet your needs, depending on what you value most (be it budget or scalability).
Here are the top alternatives to Drupal as a content management software:
---
What to look for in a great Drupal alternative
While Drupal offers a lot of flexibility and customization, it's also challenging to learn. For small business owners or solopreneurs, Drupal is not always the best CMS to build with. If you want to branch out from Drupal to create a site, it's important to know what alternatives have better solutions.
1. Ease of use
Drupal's website builder comes with a steeper learning curve than a lot of the other options. Just to get it running, you'll need to know some sort of coding. Then, there's ongoing maintenance once your website is live.
If your passion is building and developing frameworks, then great! But most people looking for a CMS want an efficient, streamlined solution that lets them edit and manage content without having to program and debug.
2. Support
Drupal is like WordPress in the sense that it's open-source and free to download. But that "free" price tag also means it lacks traditional support, account management, and even helpful customer representatives. Although Drupal's pricing is zero, you'll still spend money to host, code the site, and troubleshoot.
An excellent alternative to open-source options such as Drupal will offer one-on-one support, or in the case of WordPress itself, have a more extensive resource library.
3. Out-of-the-box readiness
It can be a lot of work to set up a new CMS, so it's often easier to go with a software that either comes with all the features you need or has a ready-made app store setup for you to download plugins that automatically install and sync internally.
Sites built with Drupal have a lot of flexibility. Still, you'll need to be able to code to get what you need, from customization to Drupal document management and marketing tools.
---
Our top eight picks for Drupal alternatives
Knowing what you want out of your content management software is the first step to getting what you need. Here are our top eight Drupal alternatives, each with their own litany of benefits and features.
1. Best for complete customization: WordPress
WordPress is an all-inclusive web builder that is open-source, free, and easy to manage on the back end. It has undergone a journey from being a popular blogging platform to the top choice for just about any type of site.
With WordPress, you can edit pages, maintain an SEO-focused blog, build a store, create forms and landing pages, and much more.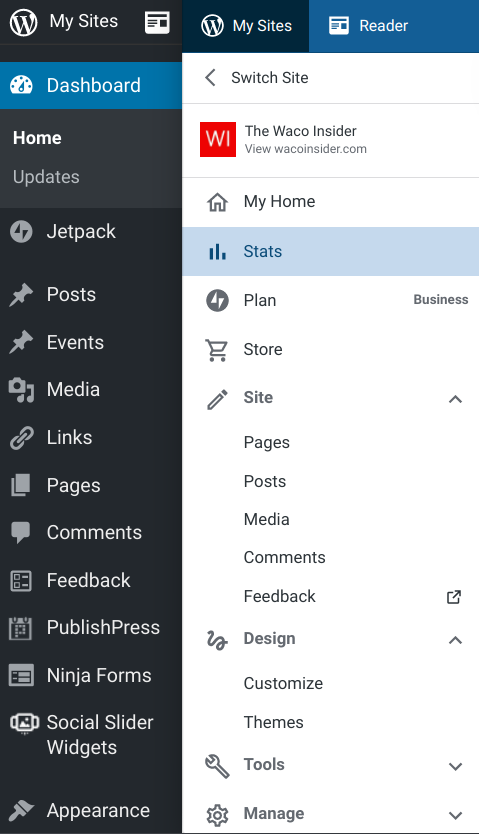 Plus, it has over 50,000 plugins available to add on just about any feature or functionality to your site. Its developers do routine security upgrades, and you're always made aware when there's an update to install.
WordPress is effortless to download, install, and use to manage your website. It also has an intuitively designed dashboard and toolbars that direct you where you need to go.
Read The Blueprint's full WordPress review
2. Best for ease of use: Weebly
While offering a long-term free plan on a smaller scale than WordPress or Drupal, Weebly is a super affordable paid solution. At just $6 per month, it gives you access to several features and capabilities that rival more expensive choices.
Weebly has always remained a user-friendly option, offering an intuitive and foolproof editing system. From managing content to e-commerce, Weebly lets you design your site just as you need it into an existing framework. It also has a lot of free templates to choose from to create your dream website.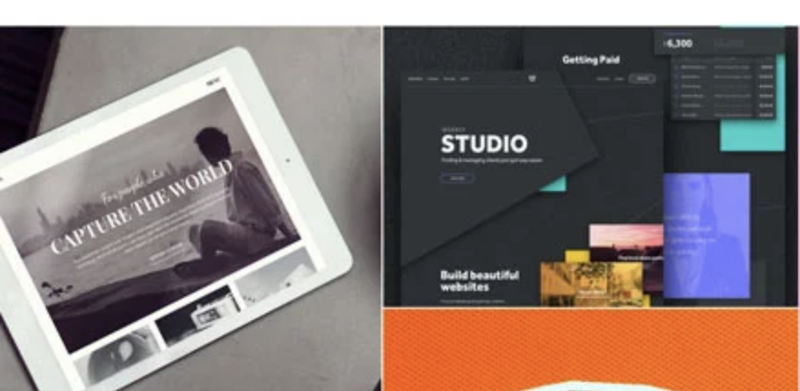 Weebly uses drag-and-drop editing, which makes it easy to build pages. Navigation is smooth, with toolbars and clickable actions that are intuitive. Plus, since Weebly sites are self-hosted on Weebly servers, page security and page loading speeds are top-notch.
Read The Blueprint's full Weebly review
3. Best for easy design: Wix
Another exceptionally intuitive and easy-to-use CMS, Wix offers a lot of features in a low-cost bundle. Because of its drag-and-drop editing platform and a user-friendly, coding-free dashboard, Wix is a top choice for content managers and new site builders.
Even after your site is built, it's easy to maintain. You can easily implement your marketing plan since Wix offers SEO tools, analytics, contact forms, and many more features to successfully promote your site.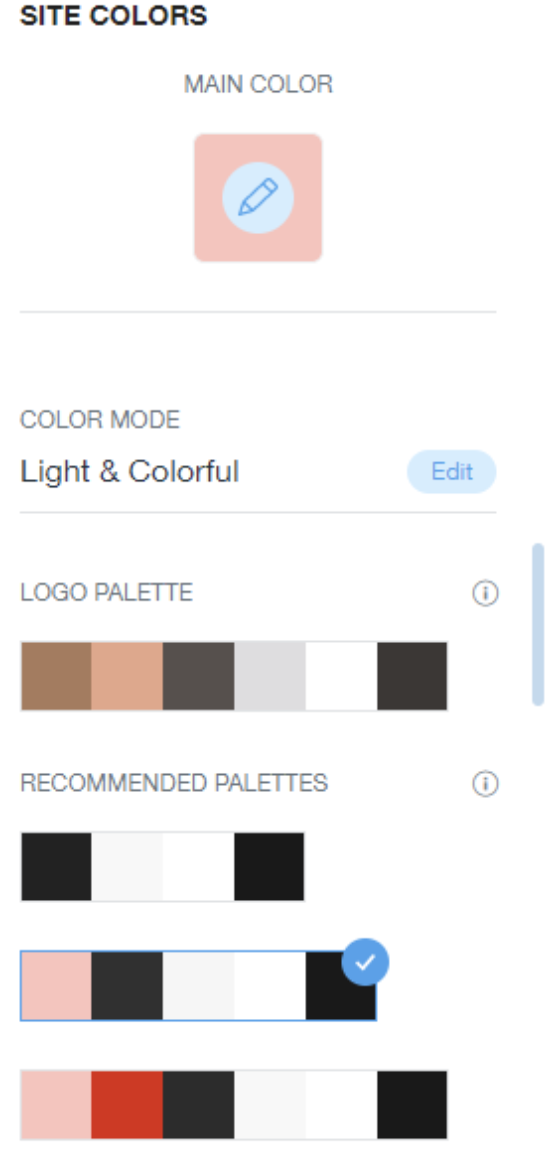 Customization is vital to Wix. It lets you design a site theme and color palette around your logo. Simply upload an image into the platform, and Wix will pull out the key colors and recommend palette options for your entire site.
There is a lot of flexibility in Wix, whether you opt to design into a pre-made template or design your own pages with the drag-and-drop editor. And, despite the creative freedom, you still don't have to actually build the back end yourself.
Read The Blueprint's full Wix review
4. Best for support: HubSpot CMS
Built by marketers for marketers, HubSpot CMS is a fully loaded content management system. That said, it is pretty expensive, starting at $400 per month, plus a mandatory $1,000 onboarding fee. But it comes with dedicated support and some pretty amazing features, making it worth its price.
HubSpot is designed to be easy to use for creatives, marketers, and small business owners. It comes with tons of features, including the ability to A/B test webpages. Like split testing for emails, HubSpot CMS lets you do the same for landing pages and tracks the success of various versions of the same content.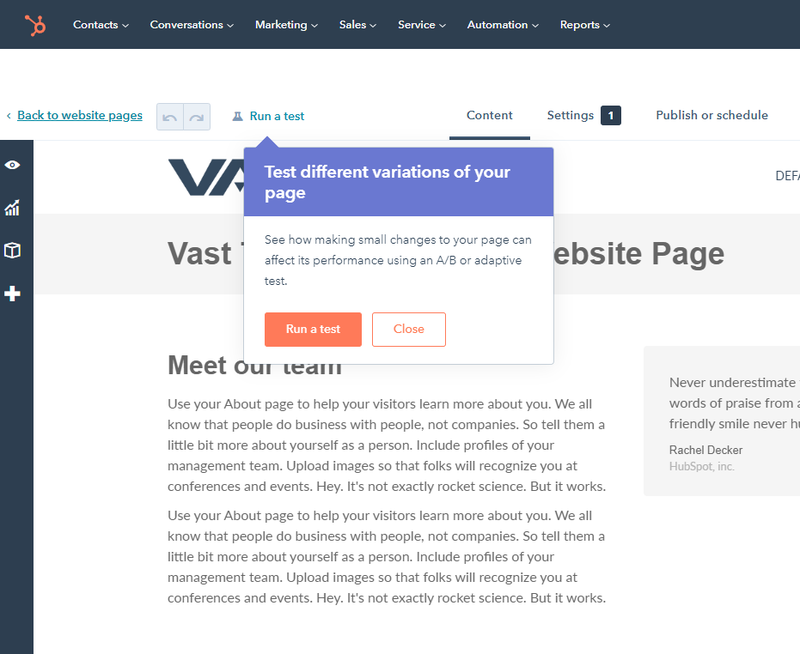 HubSpot CMS is great at optimizing search engine algorithms by giving tips as you build and even call out fields and backlinks that will help you rank. It also comes out of the box with built-in Google Analytics, site hosting, content transitioning, and dynamic content options.
Read The Blueprint's full HubSpot CMS review
5. Best for large-scale enterprises: Kentico
Kentico is incredibly adaptable, efficiently scaling with your business as it grows from a small endeavor to a larger enterprise. You only need minimal coding knowledge to create custom pages.
Kentico has a ton of useful features, including multiple user permissions, a customizable dashboard, Google integrations, customer care team apps, and much more.
The editing toolbar lets you change fonts, adjust colors, and add media within manageable parameters. Those parameters can be explicitly defined by your own comfort level.
Kentico's build can be simple for basic pages, or you can add apps and customizations to make complicated designs.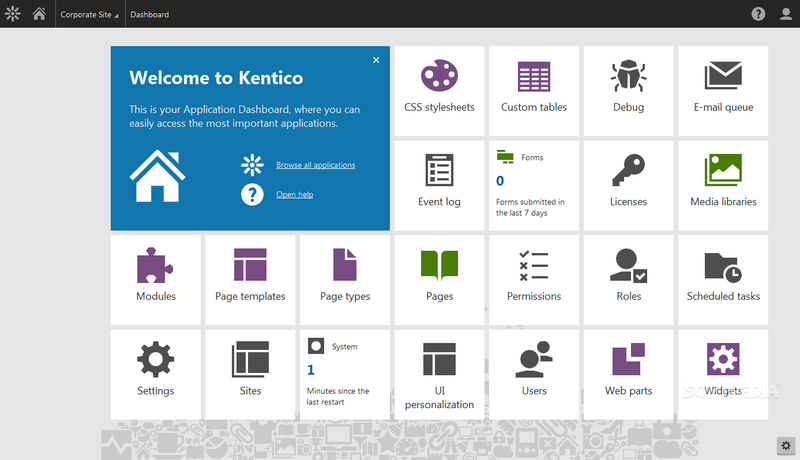 Kentico's price starts at $7,999 per year, but it has a free trial so you can see if it's the right fit for your small business. Even though it's pricey, Kentico has the flexibility, scale, and features you need to grow.
Read The Blueprint's full Kentico review
6. Best for flexibility: Magnolia CMS
The biggest hurdle with Magnolia CMS is that you don't know the price right away. It doesn't offer tier-based or plan-based costs, meaning you need to contact a rep and give them some background on your organization for a custom quote.
However, it's more than worth the exploration if you're looking for some serious flexibility. Built to enable multitasking and customization, Magnolia CMS lends itself well to a wide range of startups, tech companies, and more.
Everything is highly organized, including its basic content management. It lets you essentially recycle old content into easily searchable levels with tags and labels, so you can quickly find everything. You can repurpose those pieces and republish content without wasting time.
Magnolia CMS also has the option to turn on notifications for important events, as well as pre-schedule regular system backups and detailed cookie tracking. All of this plus a dedicated customer support team means the platform is well-suited to grow.
Read The Blueprint's full Magnolia CMS review
7. Best for professional designs: Squarespace
Squarespace excels at design and aesthetics, with a vast library of searchable templates that give your website an exceptionally polished, professional look.
Similar to Weebly and Wix, you edit your content in the templates and never have to worry about building or coding any framework.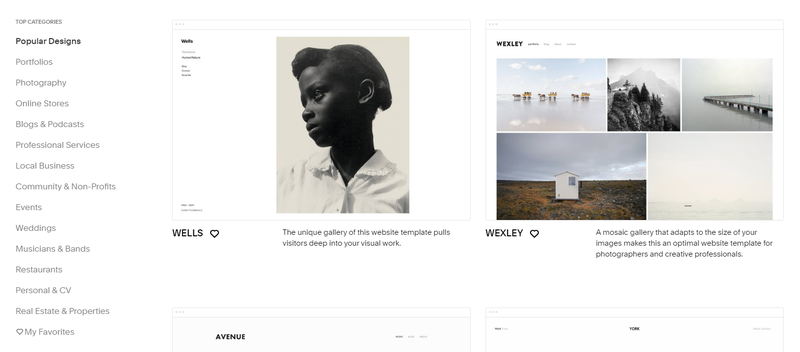 Squarespace prioritizes efficiency and a decluttered approach to working, as it prefers a streamlined dashboard to one overridden with apps. Though you can choose what plugins you need, you aren't overwhelmed with standard offerings that you'll never use.
It has useful built-in SEO capabilities, and it includes multiple author permissions. Squarespace is also an affordable option with pricing starting at $16 per month.
Read The Blueprint's full Squarespace review
8. Best for streamlined solutions: Bolt CMS
Clarity, efficiency, and a no-nonsense approach sum up the streamlined approach of Bolt CMS. Since it hails from a design team of front-end developers, it's designed to be intuitive and easy to learn, especially among less tech-savvy individuals. It places a high focus on production and editing over complicated designs.
You won't find a lot of flourishes or shiny distractions with Bolt CMS. It takes being a content management system seriously, and that's where it's focused. Like Drupal, it's also open-source, meaning it's free and always evolving. It's also a great alternative to WordPress.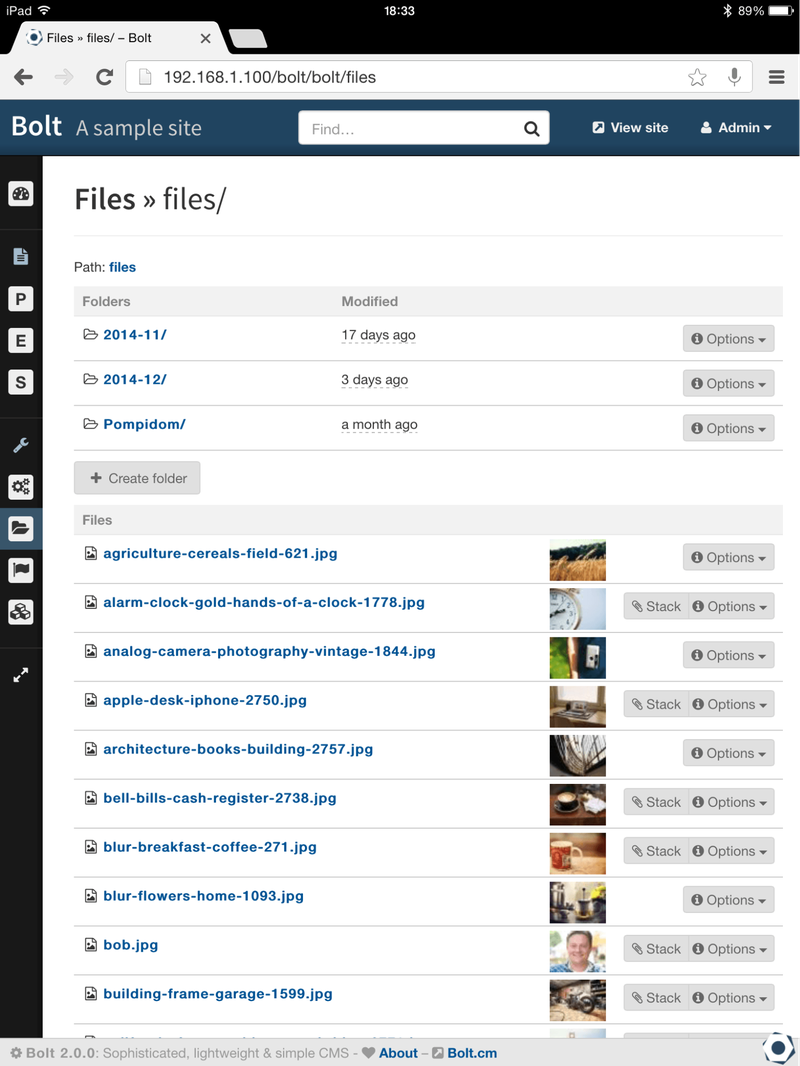 Bolt CMS also offers templates that look polished and are easy to work within. Since it's independently developed, it has its own built-in cache system to encourage fast page loading speeds.
Using Bolt involves some coding work, but it's minimal and clean and can be easily managed without a developer.
Read The Blueprint's full Bolt CMS review
---
There are many good alternatives to Drupal
If you like the open-source nature of Drupal but feel the back end is too much, your business may be a better fit for Bolt CMS or WordPress. If you like the flexibility of Drupal but aren't a fan of going without support, it may be best to check out HubSpot CMS or Magnolia CMS.
No matter what your business ultimately needs, there's a perfect content management system match out there.

View more information: https://www.fool.com/the-blueprint/drupal-alternatives/