8 Best Airtable Alternatives for Project Management
There's just no way to run a project these days without some powerful software helping you out. As the complexity of the business world has grown, so has the management of even relatively simple tasks.
But choosing the right project management software is tough. Every organization is different, and every manager has their own style. And that's to say nothing of the team that will use it.
Airtable project management software has enjoyed plenty of success since it was launched in 2012, with lots of happy customers. But if you've checked it out and aren't sure it will work for your business, it has some excellent competitors. Here's how each stacks up in comparison.
Here are the top alternatives to Airtable for project management:
---
What to look for in a great Airtable alternative
We were impressed by Airtable's features, overall ease of use, and its ability to make project planning more fun. But have a look at these three things that Airtable alternatives might do better if you're considering options.
1. Shallow learning curve
The Airtable app and desktop platforms are simple and easy to use once you get the hang of them, but they do take a little getting used to.
Airtable templates and integrations help with this somewhat, but for those who just want something they can pick up right away, you'll find other solutions that may be easier to pick up right out of the gate.
2. Lower cost
Airtable's pricing isn't bad by any means, and they even offer a free version. However, upgrading to a pay version opens up a lot of features that you may need, and at $20/month per user at the Pro level (and possibly more at Enterprise), that price can add up quickly.
Some other options offer flat rates that include multiple users, or they include more features at lower tiers.
3. Phone support
Airtable offers many ways to help you figure out the software, from guides to videos to community forums. But they don't offer phone support, and that can be frustrating for those who want a live person to talk to about the issues they're facing.
---
Our top 8 picks for Airtable alternatives
You'll find a host of project management and task management software alternatives out there, but in our estimation these eight options match up the best against Airtable.
---
1. monday.com
This is the top-rated project management software in our directory, and for good reason: it's visual, intuitive, feature heavy, and highly customizable.
You'll encounter some downsides, particularly when it comes to limits on file storage and activity logs at the lower tiers, and it gets expensive quickly.
But you'll be able to figure out how to use the software quickly, and they offer extensive customer support options (including phone support).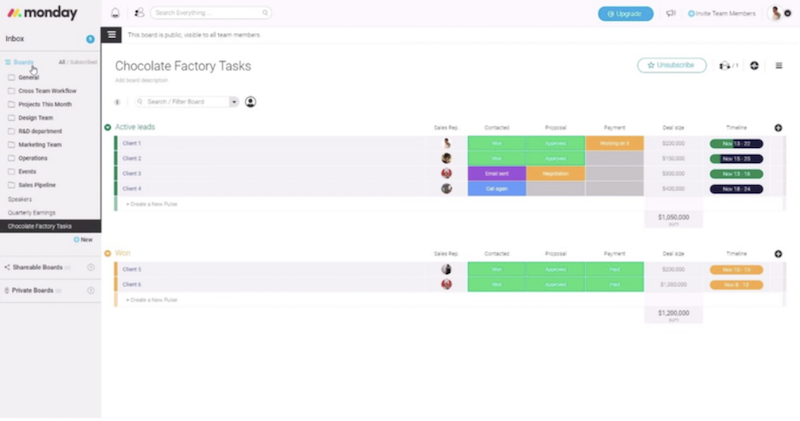 Standout feature: The software has team dashboards, meaning you can create dashboards for any project or user and customize it with widgets such as project timelines or calendars.
Read The Blueprint's full monday.com review
---
2. Podio
If pricing is your concern, Podio is probably your best bet. It has a free version with basic features for up to five employees, and unlike most other options out there, you don't pay per user — each paid tier offers unlimited users, which keeps the price low.
The software is also highly customizable and offers plenty of customer support options, including phone support. One downside: it has a fairly steep learning curve.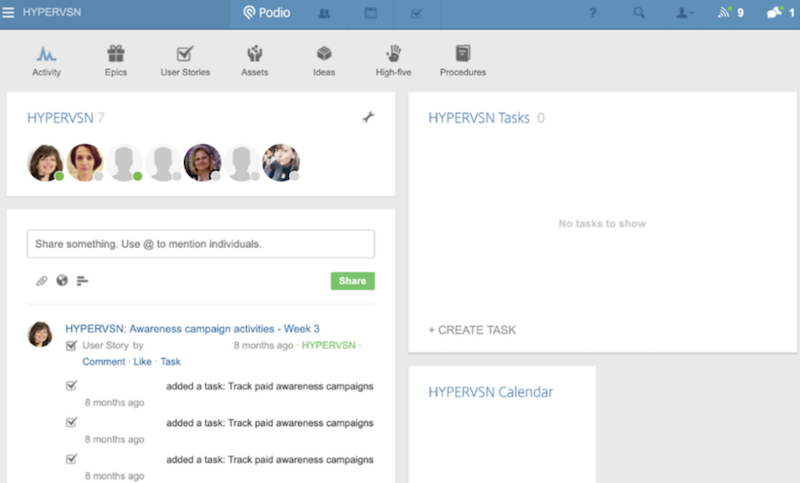 Standout feature: Podio's masterful with file storage, allowing you to upload all types of files — PDFs, images, spreadsheets, and so on — from your computer or from a Google Drive or Dropbox account.
Read The Blueprint's full Podio review
---
3. Trello
Trello boasts excellent support, although you'll have to pay for priority phone support by signing up for Business Class or Enterprise. However, they also have an extensive knowledge base and other articles.
It's an easy to use platform that doesn't require a lot of onboarding, so your team should be able to pick it up and start using it right away. Also, there's a free version, and even its paid versions are reasonably priced.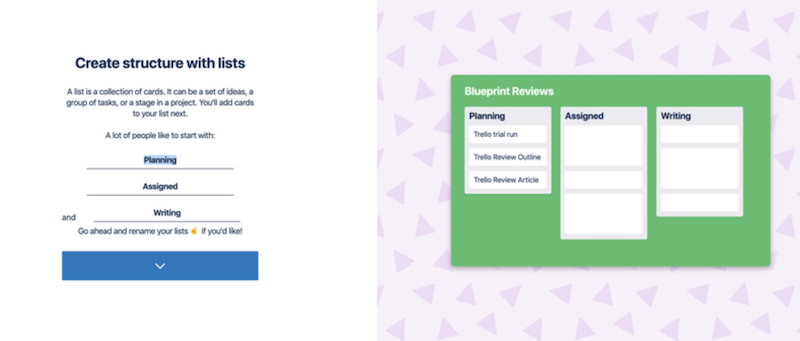 Standout feature: Each "card" in Trello's system can be tagged with individual users, who are alerted whenever a comment is made, or when attachments are uploaded. That way, everyone involved in the task is alerted to a significant action.
Read The Blueprint's full Trello review
---
4. Asana
Asana really impresses with its intuitiveness. The software is built to help tech novices manage a project, and while it may not have the level of features and affordable pricing structure others have, sometimes you just want a platform that's easy for everyone to pick up.
This software is unique in that it's focused on the entire team and not just on the project manager. Such a worker-centric tool could help increase your team's productivity.
Standout feature: Sometimes, project managers can throw too much at one team member while leaving another with relatively little to do. Asana helps prevent that with a feature called "Workload," which provides a visual representation of how much is on a team member's plate at each point in the project.
Read The Blueprint's full Asana review
---
5. Wrike
With Gantt charts, kanban boards, task lists, and other project management tools, Wrike is an excellent choice for project managers who want a rich set of features.
It offers an easy to navigate interface and extensive customer support options. Unfortunately, it lacks a desktop version or offline access for remotely managing teams, and the software does get expensive quickly, making it more appropriate for large enterprises in many cases.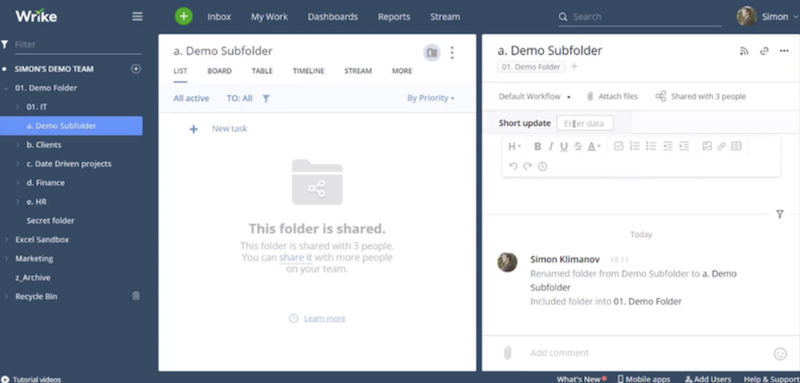 Standout feature: The Wrike Resource add-on tool helps project managers with time tracking and spreadsheets, optimizing project scheduling and improving overall team performance as a result.
Read The Blueprint's full Wrike review
---
6. Basecamp
Basecamp has made its name in the team management sphere with a simple, easy to use platform that will help you track multiple projects with ease. Its simple task tracking with to-do lists may be perfect for some teams, but a downside for others who want more, and it lacks reporting tools.
However, it offers simple, flat-rate pricing, and onboarding is fast and easy. It's particularly good for teams that want to scale up without having to pay a huge amount of money for software.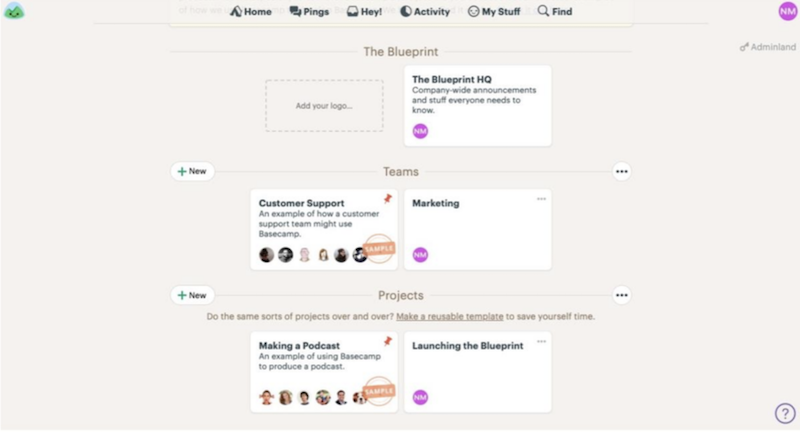 Standout feature: Basecamp's mobile app functions similarly to the desktop version, which is great for project managers who have to manage remotely. Notifications also help them see how the project is progressing.
Read The Blueprint's full Basecamp review
---
7. Mavenlink
Mavenlink's incredible list of features makes it a great tool for large enterprises, who are more likely to be able to afford its relatively high price.
This software offers many customization options, with a simple and straightforward user interface. Gantt charts, budget reports, issue tracking, project file storage, and invoicing are just a few of the things this software offers. And on top of all that, you'll get great customer support.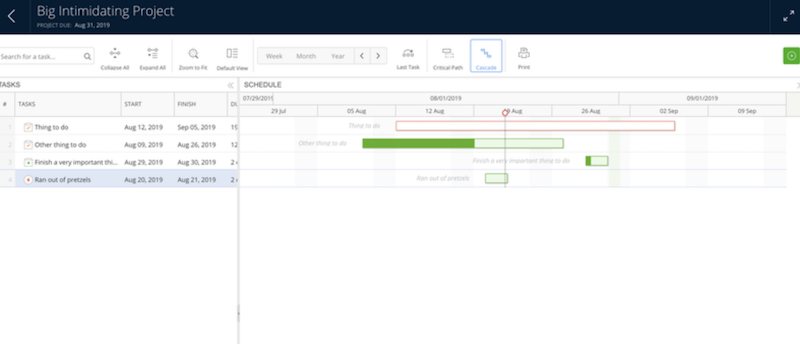 Standout feature: Mavenlink's Gantt charts do more than just give you a broad view of the project status — you can perform most functions while in this view. Once the task list is complete, you can go back and continue to update it from this view, making it much easier to manage a project.
Read The Blueprint's full Mavenlink review
---
8. Smartsheet
Sometimes, you just want spreadsheet alternatives to organize everything — in that case, you can do a bit better than Excel with Smartsheet. This software is particularly good for data-driven teams.
Unfortunately, the software is not as intuitive as other options, but they have great phone support, and the pricing structure is manageable (in fact, downright cheap if you only need one official user and limited access for the rest of the team).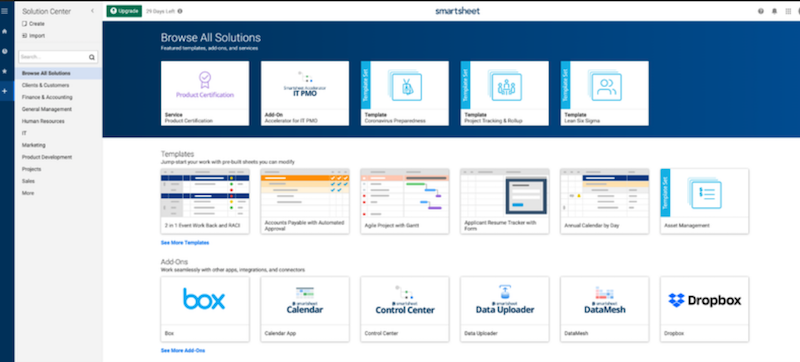 Standout feature: Smartsheet has a shared team calendar that shows tasks as well as the time period during which your team members should be working on them.
Read The Blueprint's full Smartsheet review
---
Take a few software options for a spin
The truth is it's impossible to know whether a software option will work for you until you've tried it. The Blueprint has reviewed many other solutions, so you should explore our project management software directory before making a decision.
Most of them offer free trials, so you can try it for a few weeks to see if it suits your needs.

View more information: https://www.fool.com/the-blueprint/airtable-alternatives/