6 Top Zenefits Competitors for Small Businesses in 2021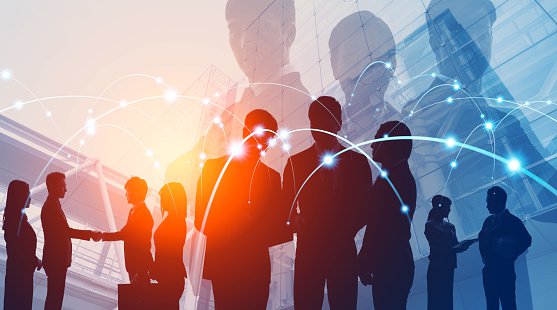 Zenefits has made waves since day one. It disrupted the HR software market right from its launch, showing small businesses that they could save a ton of time and money by automating manual processes.
Even better, Zenefits doesn't take years to set up, require a huge amount of training, or mean massive upheaval for your business.
Despite a few blips along the way, Zenefits remains a market leader and continues to push boundaries, such as with its offering of free payroll for a year.
However, that doesn't mean it's perfect, and it may not be right for your business. This article looks at Zenefits' competition and explains what other HR solutions have to offer.
Here are the top competitors of Zenefits as an HR software:
---
What to look for in a great Zenefits alternative
No piece of software is perfect. Even a solution as strong as Zenefits has its weaknesses. Here we'll explore the features and functionality you should look for in Zenefits' main competitors.
1. Reporting and analytics
HR is a data-driven business function. Trying to manually track HR metrics using pen and paper or a spreadsheet is time-consuming and error-prone.
That's why you need to look for an HR solution that not only collects all of your data, but also centralizes it in one place, so you can glean insight into company and employee performance.
Look for competitors of Zenefits that have built-in reports you can run with the click of a button, plus the option to create your own custom reports for your specific business needs.
2. Scalable feature plans
Right now you might need only basic HR functionality, but what about a year from now? You need HR software that can grow with your business. Look for an HR solution that has multiple pricing plans so you can upgrade (or downgrade) when your needs change.
Or, look for HR software that has add-ons or integrations that let you expand its functionality as you grow.
3. Ease of use
If you're managing a small business, you don't have weeks to get up and running. You can't afford the downtime, and you can't afford to pay for days of training to get employees up to speed with a new software product.
You need an intuitive, easy-to-use solution that doesn't require formal training or constant reference to a manual.
Also, look for HR software that has a familiar look and feel to consumer solutions so it feels like you're using the latest technology rather than an outdated tool.
---
The six best Zenefits competitors for HR software
The HR software market is crowded with solutions. It can be difficult to wade through all of the options (and promises) to find the software that's right for your business. Here, we look at what Zenefits' biggest competitors have to offer.
---
1. Zoho People
If you're a startup, Zenefits might have features you won't use — at least until your business grows. And you don't want to pay for features you don't need.
Zoho People offers a free plan for up to five users that provides basic HR functionality, such as time and attendance, an employee database, document management, and reporting. This makes it an attractive solution for startups and small businesses on a limited budget.
As your business grows, you can move up to one of the four paid pricing plans, which start at $1/month, per user. This gives you the option to add extra functionality, such as onboarding and performance management, in line with your business's needs.
Read The Blueprint's full Zoho People review
---
2. ADP Workforce Now
If you're looking for HR software that can grow with your business, ADP Workforce Now is a great option. Its modular approach means you pay only for the features you need, and you can add more functionality as your business grows.
It also excels in one area where Zenefits is weak: workforce analytics and reporting. With ADP Workforce Now, you can view real-time data on company performance metrics, including:
Actual versus scheduled hours
Overtime worked
Budget
This helps you identify areas where you're overspending — such as overtime pay — and take actions to address the issues, such as automating manual processes or improving the way you run your operations.
You can also view this data by location and benchmark your results against your competitors to see how you stack up.
ADP Workforce Now has some interesting employee management features, such as its integration with Slack and Microsoft Teams. Your employees can see their vacation balances and submit time-off requests directly from these productivity platforms rather than logging in to the ADP portal.
Read The Blueprint's full ADP Workforce Now review
---
3. Namely
Some HR solutions, while packed with great features, lack user-friendly workflows and sport outdated designs. This becomes a bigger issue as digital natives enter the workforce and expect their work systems to be on par with the technology they use in their personal lives.
Namely's modern user interface and dashboard borrows from social media apps such as Facebook. Its Newsfeed draws attention to company announcements, and the layout allows users to quickly access different HR functions from the left-hand menu.
Users can get up and running without needing to complete hours of training or pore over a user manual.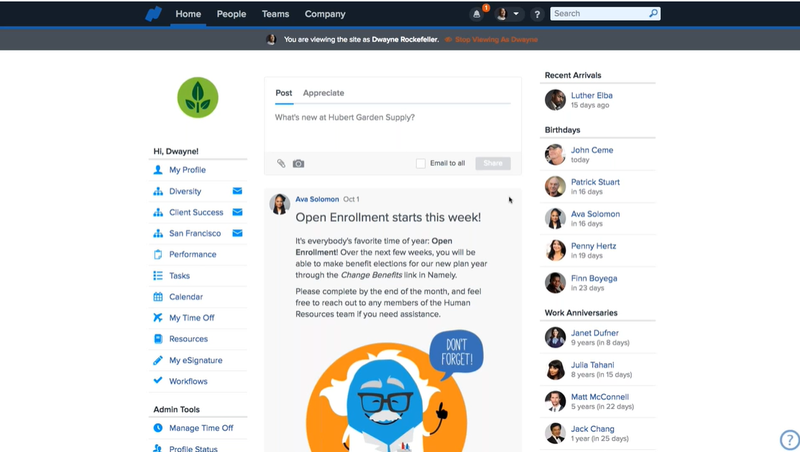 Namely is also a good all-around HR software. It offers a broad range of features, covering recruiting, onboarding, performance management, time and attendance, and benefits administration, all of which are easy to use and understand.
Read The Blueprint's full Namely review
---
4. Bamboo HR
Bamboo HR is a straightforward, intuitive piece of software. Suitable for small businesses that don't have the resources to run a dedicated HR department, it provides hiring, workforce management, and reporting functionality.
You can also choose to add on functionality on a per-module basis, including performance management, time tracking, and employee satisfaction.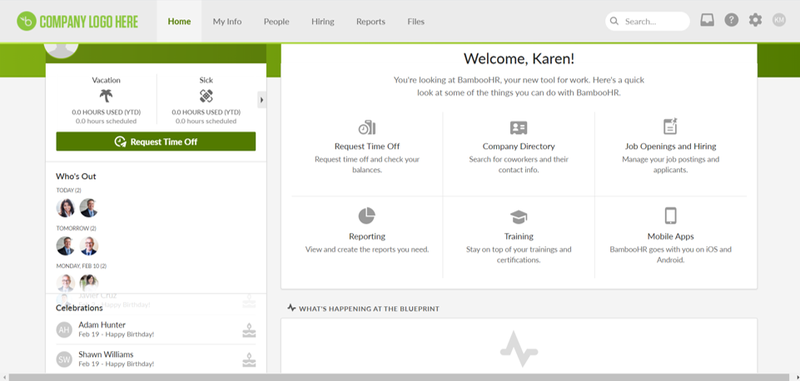 Bamboo HR has a well-organized and easy-to-use dashboard that clearly highlights important company information. It's easy to find your way around and quickly complete common tasks such as managing job openings, accessing reports, and requesting time off.
It also provides a seven-day free trial, so you can try before you buy.
Read The Blueprint's full Bamboo HR review
---
5. Workable
If you work at a startup or small business, you'll often have to take on responsibilities that are far outside your wheelhouse. This includes recruiting.
If you don't have the budget for a dedicated hiring manager, then the responsibility for sourcing and managing talent will land on the shoulders of whoever has time. That's when you'll realize the value of an applicant tracking system like Workable.
Workable's intuitive and modern user interface makes it easy to create job ads, even if you've never done it before. It provides suggestions — for example, in finding the right words to use — that help you quickly create more effective ads.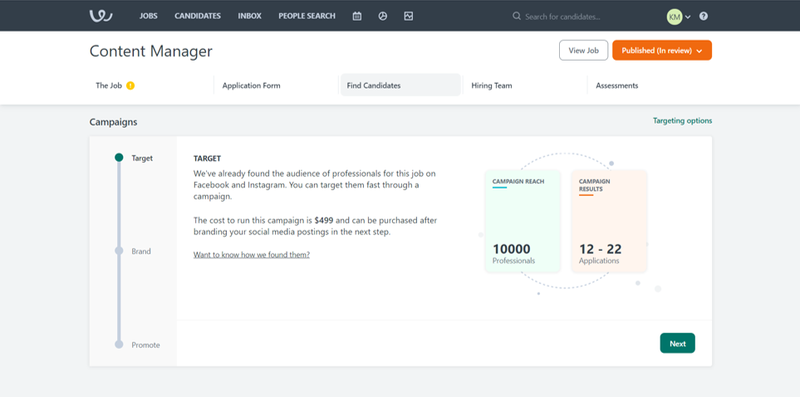 Its functionality also helps you better promote your vacancies by targeting the right audience according to criteria such as location or whether it's a remote job, while Workable's artificial intelligence capabilities help you more quickly source top talent.
Read The Blueprint's full Workable review
---
6. Workday HCM
While all businesses want to spend the minimum amount of time managing their HR departments, some companies have complex human resources needs. That's when a solution like Workday HCM comes into play.
Workday HCM has a vast array of features covering the entire human resources spectrum. This ranges from workforce management and planning and recruitment to performance management, compensation and benefits administration, and payroll.
Workday HCM also helps your HR professionals play a more strategic role in the way your business operates. It provides an overview and a detailed breakdown of the performance of both employees and the business as a whole.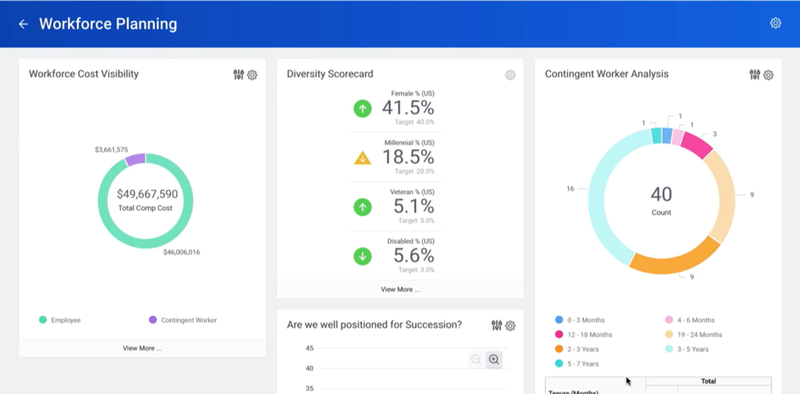 Its comprehensive dashboard displays easy-to-digest visual representations of factors that influence the smooth running of any workforce. This includes the cost of your freelance workforce, your progress toward diversity targets, and your succession planning achievements.
Read The Blueprint's full Workday review
---
Time for further research
Before ruling Zenefits in or out, you need to think about what you need now as well as what you'll need in the next few years. Draw data from your staffing plan and organizational goals to help you decide what features are must-haves, which are nice-to-haves, and which you can live without.
Then head over to our HR software review pages where you can get more in-depth information on each solution, such as pricing, support, features, and ease of use.
View more information: https://www.fool.com/the-blueprint/zenefits-competitors/