6 Top Project Management Collaboration Tools in 2021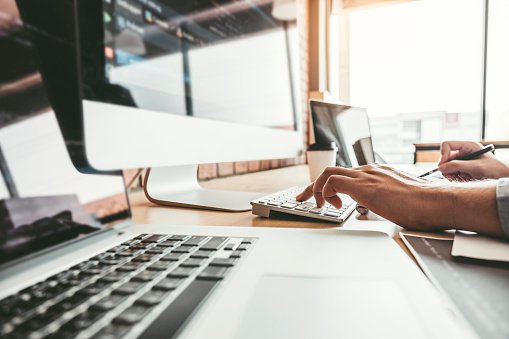 Maybe you're an old hand at working online or were thrust into it due to recent events. Either way, you must use the best project management tools to communicate, share files, and collaborate on ideas with your team members despite the physical distance separating everyone.
Here are our top 6 picks for the best project management collaboration tools:
---
What to consider when choosing project management collaboration tools
The key performance indicator (KPI) for each project management collaboration tool boils down to answering one question: Does it contribute to the production of high-quality deliverables on time and under budget? Answering that question, however, requires taking multiple factors into consideration.
1. Applicability
No matter how attractive a new piece of software is, you must first answer one question: Does the project need it? Adding a standalone online white board application to facilitate brainstorming as part of your communication strategy may seem like a no-brainer.
If you're already using Zoom, however, you have access to its included whiteboard feature. Why add a separate application to perform the same function?
Another way to determine a tool's potential usefulness is identifying the problem it's supposed to solve. If you can't articulate that, what you have is a software solution for a problem you don't have, which is software you don't need.
2. Ease of use
An effective collaboration tool helps your team complete a project, which means it can't be so complicated that using it becomes its own project. Is the tool simple or intuitive enough that your team can use it right away?
If you have a cross-functional team, does each team member have the necessary background to use it?
If training is required, who will provide it? Does your company have someone internally who can train users or will you need outside help? Are online tutorials, videos, or webinars sufficient?
What is the anticipated time required for everyone to be up to speed? These are all questions you should consider before investing in a new tool.
3. Security
Every piece of software has been — and can be — hacked, but you must know what the software manufacturer is doing to address known problems and stay ahead of bad actors. Secure Sockets Layer (SSL) encryption?
Two-factor authentication for logins? What else? For example, if you're in the healthcare industry, Health Insurance Portability and Accountability Act (HIPAA) security requires additional safeguards.
Ensuring the security of your software is critical to avoiding unwanted legal problems. It's not only your data you must worry about; it's also the data of your customers.
4. Cost
The impact to your bottom line is another important consideration. Free planning tools are great, but does what they offer match what you require? How much functionality can you afford? Unless you have complete budgetary control, you must justify this additional expense.
You must also understand the total cost of the plan you choose. Is it a flat fee? A per-user fee? What's the difference between monthly and yearly rates? Avoid sticker shock or buyer's remorse by researching potential add-on costs, such as training, data storage, and integrations with other software.
---
The six best project management collaboration tools
The "best" collaboration and work tools are the ones your team finds productive enough to use. Each of the six software applications below offers a free plan, so test drive them to your heart's content to determine if they're the best fit for your team's needs.
---
1. Trello
Want people to use a new collaboration tool? Make it hassle-free. Trello does that in spades, which is why The Blueprint rated it the easiest-to-use project management software.
Trello uses kanban boards with vertical status lists and project cards to create project schedules. You move cards left to right from one column to another as sequential actions are completed.
The board in the screenshot below has a six-step content production process: planning, assigned, writing, editing, revising, and finished. Each content topic, such as "Trello Review Outline," has its own card, which is dragged and dropped to the next vertical status list upon completion.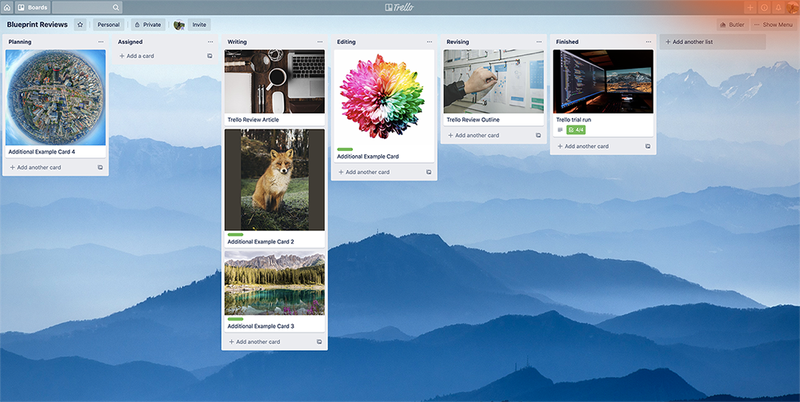 What you see is what you get with Trello because you cannot switch from kanban project planning to other project organization frameworks such as Gantt charts or a calendar view. Trello also lacks any financial management features and offers no phone support with its free plan.
Trello has three plans:
Free: Includes unlimited cards, lists, personal boards, 10 team boards, and a 10-megabyte-per-file attachment limit
Business Class: $12.50/month per user — adds unlimited team boards, advanced checklists, power-ups, team board templates, priority support, and a 250-megabyte-per-file attachment limit
Enterprise: $20.83/month per user; the price per user progressively drops with more than 300 users — adds power-up administration, attachment restrictions, organization-wide permissions, organization-visible boards, and public board management
Trello's monthly cost increases quickly with its paid plans, but many smaller teams will find that its free plan works for most of their needs.
---
2. Asana
Asana offers several different ways to organize your project roadmap, including Gantt charts, task lists, and kanban boards. It's also more worker-centric than other project management software, which allows you to manage the project and your team.
Most project management software focuses on project milestones and the tasks required to achieve them at the expense of the team itself.
Asana's task manager and workload management features let you see team and individual workloads, set individual workload capacity, and assign an effort level for each task.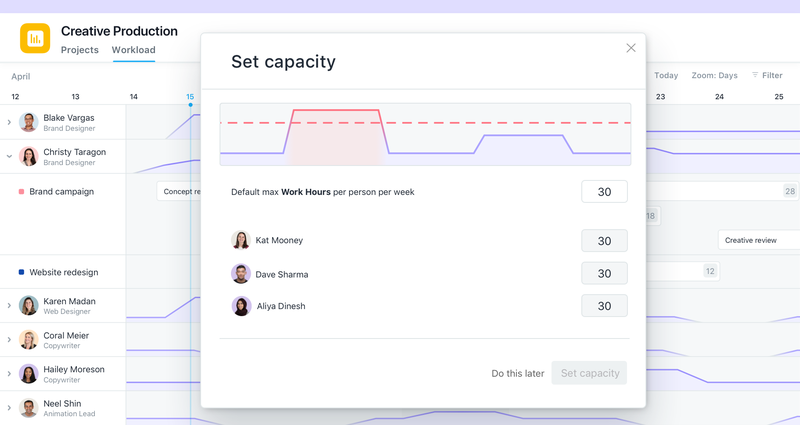 Like Trello, Asana lacks budgeting and invoicing features or granular reporting, although you can integrate third-party apps to provide this functionality. Asana does not provide any telephone support, regardless of your plan.
Asana also has a free plan and three paid options:
Basic: Create tasks using list, board, and calendar views, assign tasks and due dates, use mobile apps and a Chrome extension, and employ software integrations with up to 15 team members
Premium: $13.49/month per user — adds a timeline view, advanced search and reporting, custom fields, unlimited free guests, forms, rules, milestones, admin console, and private teams and projects
Business: $30.49/month per user — adds portfolios, workload tracking, custom rules builder, approvals, proofing, lockable custom fields, and advanced software integrations
Enterprise: Quote-based — Adds user provisioning and deprovisioning, data export and deletion, custom branding, priority support, cross-regional backups, and a 99.9% uptime service level agreement (SLA)
Unlike Trello, Asana's free basic plan limits the number of total users and does not have a comparable level of functionality. Teams with 10 members will pay almost $150/month for the Premium plan, which does not include workload tracking, approvals, or custom rules.
---
3. Zoom
Zoom is a web-based video conferencing tool that sprang to prominence during the COVID-19 pandemic.
The Blueprint rated it the best video conferencing software, and it's designed for all types of users: individuals, small businesses, enterprise organizations, educational institutions, healthcare systems, government agencies, and more.
Zoom is available on desktops and mobile devices. Open the app, and you have four options: new meeting, join, schedule, and share screen. If you're hosting a meeting, participants can join without a Zoom account. Other options include whiteboard and chat features for use during meetings.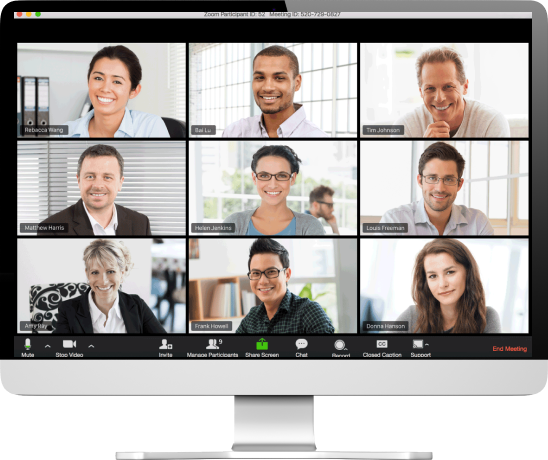 Zoom's had documented security issues, including user passwords sold on the dark web and "Zoombombers" hacking into live meetings. Recent users report slow customer service response times, which could be due to adding 100 million new users this year during the pandemic.
Zoom has four plans:
Free: Host an unlimited number of meetings with a 40-minute time limit for three or more participants and have up to 100 participants per meeting
Pro: $19.99/month per host with up to nine hosts per account — increases meeting duration to 24 hours, adds user management, admin feature controls, and reporting
Business: $199.99/month with 10 hosts per account — increases meeting limit to 300 participants, adds dedicated phone support, vanity web address, and company branding
Enterprise: $1,999/month with 100 hosts per account — increases meeting limit to 500 participants, adds a dedicated customer success manager, executive business reviews, and bundle discounts on webinars and Zoom Rooms
Zoom Rooms provide an integrated experience for audio and video conferencing and screen sharing.
---
4. Slack
Improve team communication with Slack, which is suitable for two-person teams and Fortune 500 companies. Access it through the web, desktop application, or its mobile app. Create multiple conversations in separate channels, communicate privately with direct messages, and share files.
Slack's left-hand navigation menu lists the conversation threads you're in, all your channels, and people who've sent you direct messages. The chat interface shows each channel's messages in sequential order, and you can embed images or attach files to your messages.
Reply to messages in the chat interface or select a message to create a separate conversation thread.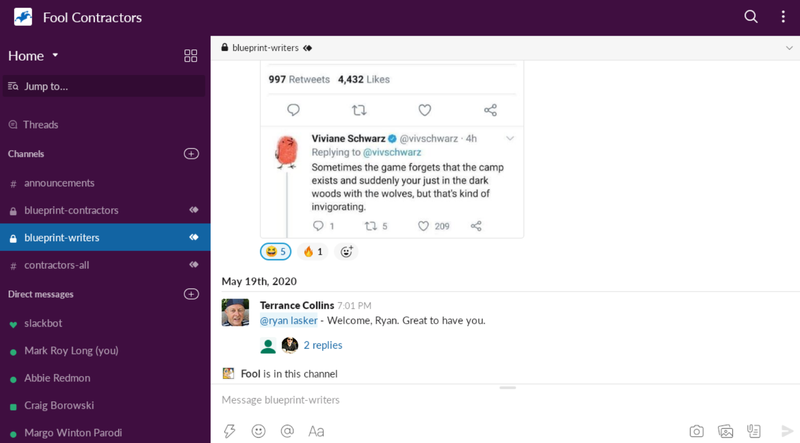 Slack has voice and video call features, but they are bandwidth heavy and the quality is spotty. Plus, the free plan allows only 1:1 voice and video calls, so if multiple team members are working remotely, using a dedicated video conferencing application such as Zoom is a better option.
Slack has four plans:
Free: Supports unlimited users, channels, 1:1 voice and video calls, file sharing, 10 app integrations, and access to the 10,000 most recent messages
Standard: $8/month per active user — Includes unlimited message archive and app integrations, supports group voice and video calls with up to 15 teammates, and allows guest access to channels
Plus: $15/month per active user — Adds advanced identity management and 99.99% guaranteed uptime and 24/7 support with a four-hour response time
Enterprise Grid: Quote-based — Provides support for up to 500,000 users, administration with customizable policies and central controls, and tailored support with an account and customer success team
Most small teams will find that Slack's free plan meets their needs.
---
5. Microsoft Whiteboard
Microsoft Whiteboard is a cloud-based app that allows you to brainstorm, draw diagrams, or create other visuals anyone on your team can view live, no matter where they are. You do not need to take a picture of whiteboards to save them because they're securely stored in the cloud.
The Whiteboard interface has a simple tools palette with a pen, highlighter, eraser, and object lasso. Participants can make their own modifications to whiteboards via their desktop computers or digital devices by using either a mouse or touchscreen.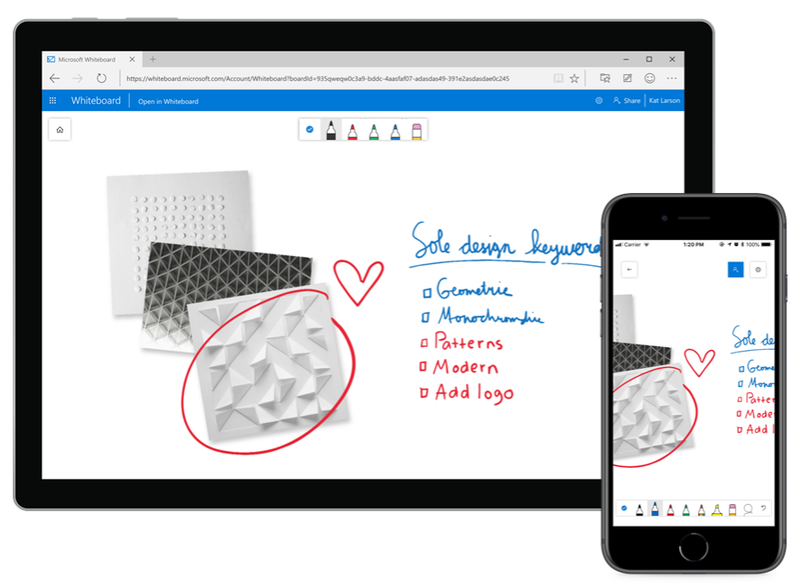 If your company has Microsoft Office 365, the Whiteboard application is included. Otherwise, download the free app from the Microsoft Store or the Apple App Store. Unfortunately, Android users are out of luck for now.
You must have a Microsoft account — it's free to set up — to use Whiteboard. You can share your whiteboard via a URL, but anyone accessing it must also create a Microsoft account if they don't already have one.
---
6. Zapier
Zapier is not a collaboration tool on its own like the examples above; instead, it connects two or more pieces of software with "zaps" so they can communicate with each other.
For example, if you receive an email with an attachment in Gmail, a multi-step zap can first copy the attachment to Dropbox and then send you an alert in Slack.
Creating a single-step zap is easy:
Identify the two pieces of software to connect.
Identify the trigger in the first application and the resulting action in the second application.
In the example below, each time a Trello card is assigned a due date, your team's shared Google Calendar creates a corresponding event. Now team members won't overlook any project task's deadline.
Zaps only work in one direction, and you must create two zaps for two-way communication. If a zap breaks, you receive a notification but little information about why it happened, which can make tracing the problem difficult.
Zapier only provides email support, so you'll experience some lag time in receiving answers to your questions.
Zapier has five plans:
Free: Provides five single-step zaps, performs 100 tasks/month, and updates every 15 minutes
Starter: $24.99/month — includes 20 multi-step zaps and 750 tasks/month
Professional: $61.25/month — includes unlimited zaps, 2,000 tasks/month, and updates every two minutes
Team: $373.75/month — includes 50,000 tasks/month and updates every minute
Company: $748.75/month — includes 100,000 tasks per month
The pricing at the top end is budget-intensive, but the free plan allows you to experiment with Zapier to see how you can link your software in different ways to facilitate team collaboration.
---
Work smarter to produce better work
Working remotely is becoming more common, which requires project teams to work smart to ensure ongoing collaboration. Choosing the best online tools allows your teams to stay in touch, under budget, and on schedule for each project.
View more information: https://www.fool.com/the-blueprint/project-management-collaboration-tools/