6 Best POS Systems for Bars in 2021
To provide the best customer service in your bar, you need the best POS system (point of sale) to help run it.
You'll find many POS systems on the market, but not all are designed specifically for the bar, nightclub, or restaurant industry. Without dedicated restaurant and bar software, you risk being restricted by a non-industry specific solution.
The truth is, your bar and its POS system requirements will be different than the bar two blocks over, so it's important to select a system that offers the functionality you need.
We've put together a list of the six best POS software systems for bars, complete with short feature reviews, pricing options, and the businesses the software suits.
These are our top picks for the best POS software for bars:
---
What to consider when choosing a bar POS system
Bars have specific POS feature needs, and not every POS system comes armed with the functionality needed to serve this type of business model.
System features should be the most critical component in selecting your bar computer system, but you'll need to take other factors into consideration, too.
1. Feature set
This is the area where you'll need to dig down to see if a system truly matches your business model. If it lacks features that your bar really needs, it may hamper your ability to acquire new customers because your sales process can't function the way you need it to.
For example, if your bar also serves food during the day, the system you choose needs to be able to support order management, ingredient tracking, and floor plan management.
Map out your business's exact needs and before committing to a POS system, see how the software stacks up against them. Consider extra features you might not need now, but will need as your business scales — for example, multi-location functionality.
2. Pricing
Don't choose a bar POS system based on the lowest price alone. Not only might you end up with a system that's completely inadequate for your business, but it may also end up costing you more in add-ons and pricey contracts.
Consider these things when it comes to pricing:
Outright cost of the POS hardware
Software costs
Card processing fees
Monthly/annual contracts.
3. Hardware
Consider what kind of hardware you'll need to run your bar, and how this affects your budget. Of course, it will depends on your sales management processes. Do you need one POS terminal or five? How many handheld credit card terminals do you need?
You'll need to match your POS hardware to your unique setup. Remember, POS hardware is just as important as POS software, so choose wisely.
---
6 best POS systems for bars
In this list of the top six POS systems for bars, we'll cover each solution's feature set, what kind of business they're suitable for, pricing breakdowns, and hardware options.
---
1. Lightspeed POS
Lightspeed POS offers two separate solutions — Lightspeed Retail and Lightspeed Restaurant. Lightspeed Restaurant is feature rich and ideal for small and mid-size businesses. It's recommended for bars, full-service restaurants, cafes, and more.
It operates as an iPad POS for bars, and comes with a fantastic feature set to benefit small to mid-size operations. Specific features for bars include:
Menu management
Custom floor plan management
Split bill functionality
Tableside ordering
Timed events (sets promotional prices/offers for happy hours, etc.)
Built-in PCI compliance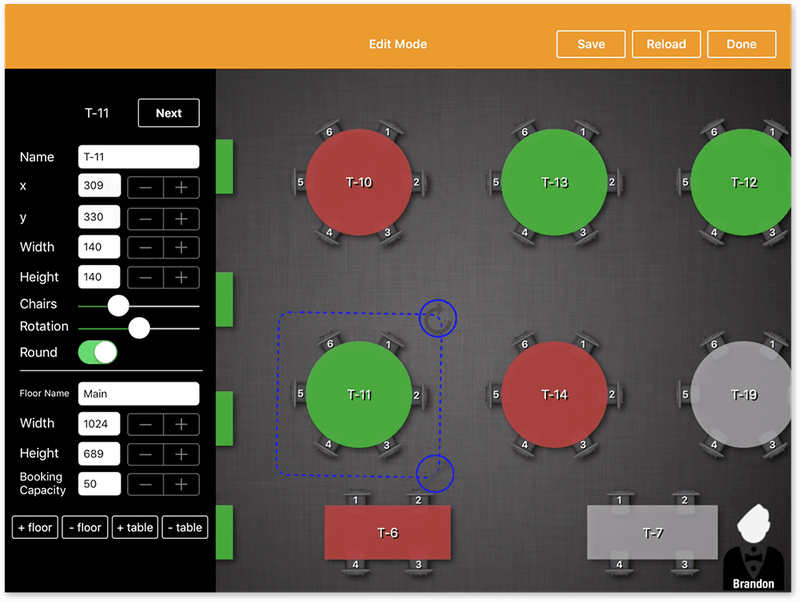 Lightspeed Restaurant POS charges 2.6% + $0.10 for each swiped, tapped, or dipped card transaction, and you'll also need to factor in POS hardware costs. It'll cost you $69/month for one POS register. If you need more, Lightspeed will provide you with a custom pricing quote.
The vendor also offers add-on packages for an additional $12 or $39/month that offer more specialized POS features for bars, such as customer loyalty, self-order kiosk, and a delivery integration.
For those willing to pay a little more for a POS system with highly bar-centric features, Lightspeed Restaurant is a great option.
Read The Blueprint's full Lightspeed POS review
---
2. Square
Square for Restaurants is another iPad POS with specific features for running a bar. Like other Square products, Square for Restaurants is a simple and affordable system, which is great for tech novices and small bars.
While it's not the most robust option in terms of a full POS feature set, Square for Restaurants does offer the following specific features for bars:
Menu management
Drink modifiers
Dark mode
Conversational ordering (Waitstaff can place orders quickly and intuitively, following the way customers talk)
Promotional menus (Happy hours, etc)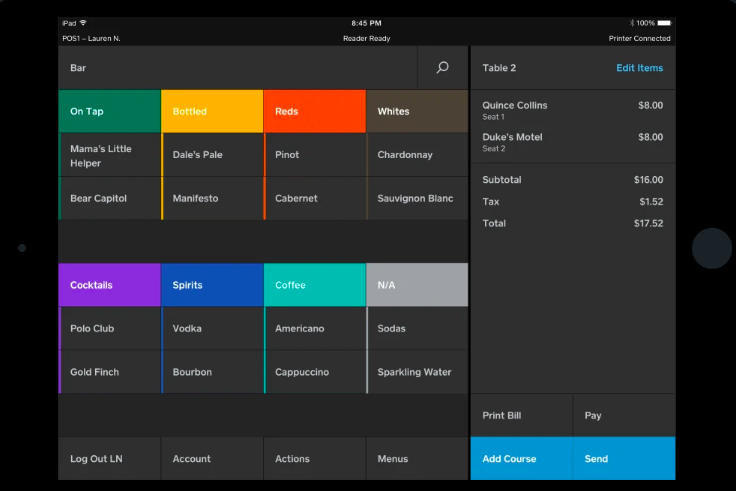 Square for Restaurant's POS app is completely free, with no monthly fees. You'll only pay for payment processing whenever you make a sale, which costs a flat rate of 2.6% + $0.10.
In terms of Square's POS hardware, the first register will cost you $60 per month, and additional registers cost $40 per month. Square for Restaurant is an inexpensive POS system that will appeal to buyers looking for a simple solution at a great price point.
Read The Blueprint's full Square review
---
3. Toast POS
Toast POS, an Android POS system primarily aimed at the food service industry, caters to bars, too. Due to its higher price point and more powerful features, this solution's suitable for mid to large size bar businesses.
It lets you accept credit card payments, and Toast's POS system offers many other features that will keep your bar running smoothly:
Pre-authorized payments
Menu management
Advanced POS reports
Split bill functionality
Employee management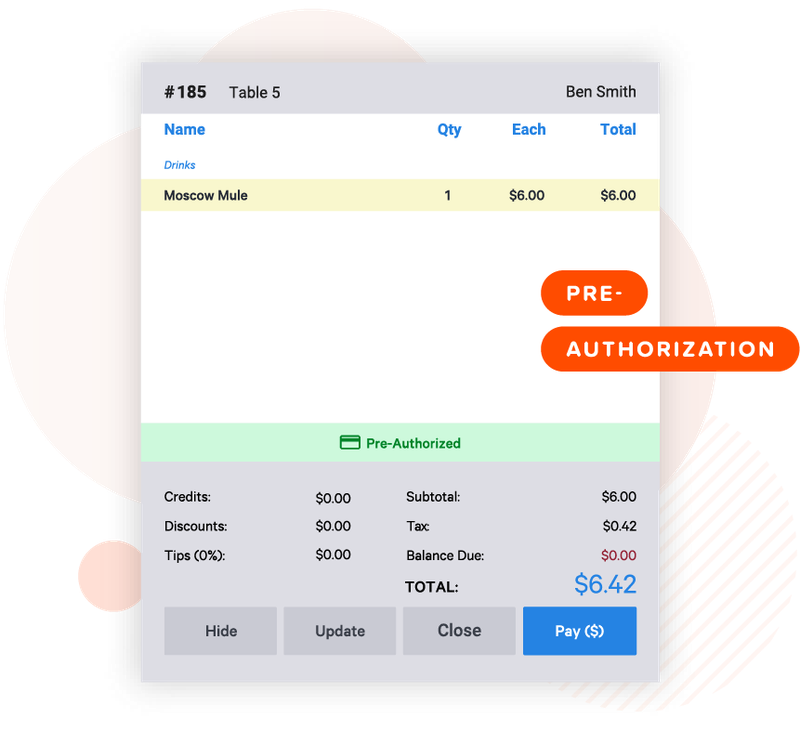 Toast POS requires you to use its proprietary in-house payment processing. Though Toast POS doesn't publicly advertise their credit card processing fees, they instead offer customers a custom rate that suits their business.
You can expect to pay $79/month for one POS terminal, with additional terminals costing $50 each. For bars needing more than six terminals, Toast POS offers a custom quote.
Read The Blueprint's full Toast review
---
4. ShopKeep
ShopKeep is built for small to medium size retail and food and beverage businesses, with a focus on quick service businesses. Their POS system also runs on Clover devices.
ShopKeep's not as industry-specific or advanced as other POS systems, but the features it offers are robust for small to mid-size bars. Those features include:
Inventory management
Employee permission management
Menu management
Tab management
Split bill functionality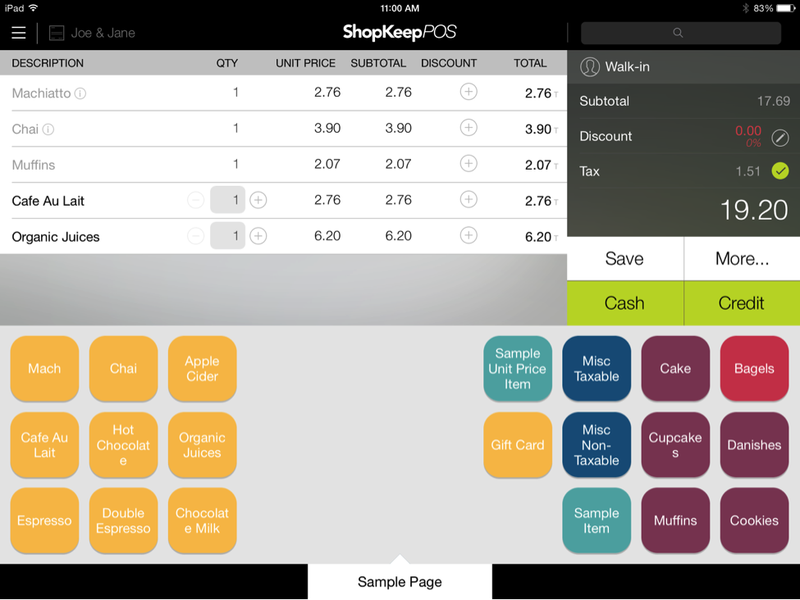 Pricing is on a monthly subscription basis with no contract, which is a good option for new businesses, but there are no fixed-rate pricing options. Instead, they create custom pricing quotes for each business.
Their POS terminals cost $69/month per station up to three stations, while the fourth station and beyond is $29/month per station.
For small businesses that process less than $5,000 per month, operate out of one location, require only one register, and with only one staff member, ShopKeep has a free plan that includes unlimited inventory and sales reporting.
Read The Blueprint's full ShopKeep review
---
5. TouchBistro
TouchBistro is an iOS POS system that's a great option for bar owners. It offers a robust system, and is not entirely cloud-based — it's a hybrid solution that has cloud-based reporting but runs on a local network.
TouchBistro was designed by people with industry experience, meaning the system offers features that are highly intuitive for its users:
Menu management
Table management
Employee management
Sales reporting
Split bill functionality
Automatic discounts for events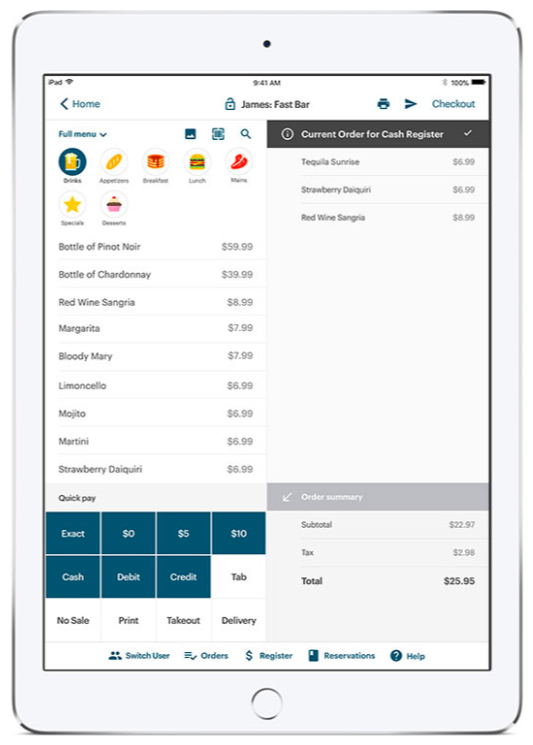 Pricing is on a per-license basis, billed annually, and the solution offers four tiers of software plans:
Solo: $69/month for one license
Dual: $129/month for two licenses
Team: $249/month for up to five licenses
Unlimited/more than 6 licenses: Contact TouchBistro for a custom quote.
TouchBistro offers its own credit card processing service through a partnership with Chase, but customers may select their own card processor.
---
6. Revel Systems
Revel Systems offers a powerful bar POS system, with a steep price tag depending on your budget. The solution is highly customizable and ideal for larger establishments willing to pay more for a robust system.
If you're looking for a bar POS system that can help you pre-authorize payments, manage staff, and effectively manage your tables, Revel Systems is a good option. Revel Systems' intuitive bar-specific features include:
Pre-authorized payments
Digital menu boards
Table management
Employee management
Age prompts
Employee management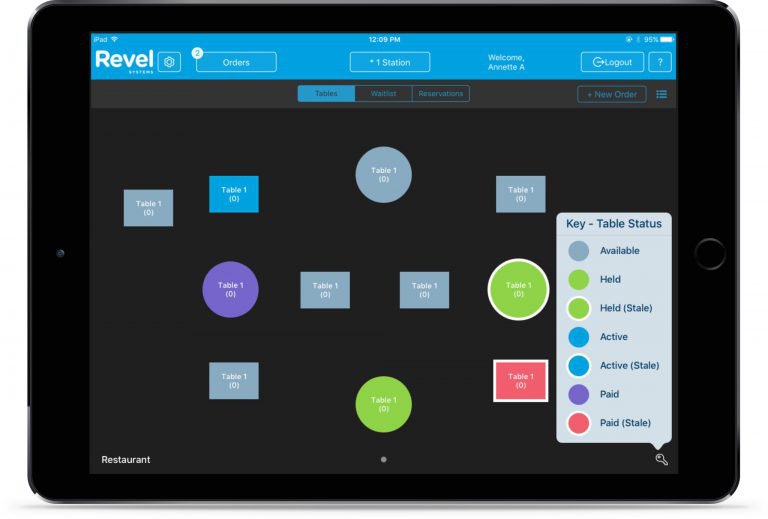 Revel Systems doesn't limit you to their hardware — you can purchase external hardware.
Revel Systems pricing starts at $99/month per POS terminal with annual upfront billing, with a three year contract required. The system offers its own payment processing or you can integrate with other merchant accounts.
This pricing model makes the solution more suitable for larger businesses with more capital.
---
Next steps for selecting a bar POS system
Choosing the right POS system from the beginning helps minimize the risk of losing money on the investment, and helps you maximize your business's potential.
Many POS vendors offer free trials or demos so that you can get a feel for the products and how they work in real-life scenarios. We recommend that you try out as many as possible and talk to current users in order to get an overall picture of how each system differs before landing on a POS system.

View more information: https://www.fool.com/the-blueprint/bar-pos-system/