5 Best Gantt Chart Software Solutions in 2021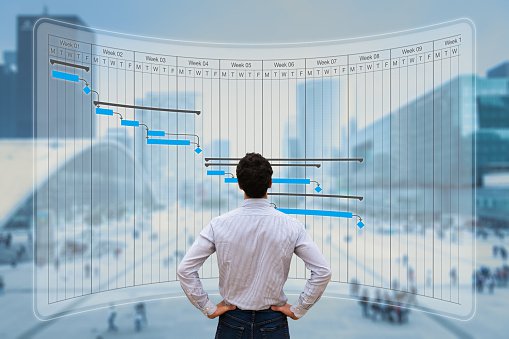 When managing a project, you need all the help you can get to keep things on schedule. For a small business relying on the successful and timely completion of projects to keep your company afloat, even a slight delay can cause cash flow problems and disrupt business continuity.
A Gantt chart — also known as a timeline chart — is one of several project management tools project managers use on an ongoing basis. Through elements such as bars, lines, and arrows on a timeline, it shows:
All the project tasks and their relationships with each other — also called dependencies
When each task is planned for completion
The person assigned to perform the task
The dates by which project milestones and deliverables are expected to be complete
The project's estimated delivery or completion date
Used properly, Gantt charts come with a long list of benefits, including:
Communicate what's going on and get everyone on the same page
Prevent resource overload, which can cause burnout, quality issues, and project delays
Identify overlapping or interdependent tasks to create a more realistic project schedule
Measure the project's progress, and if you're behind schedule, make changes to the action plan — or project plan, whichever the case may be
Identify bottlenecks, if any
Now that we know what Gantt charts are for, the next question to ask is: With the market teeming with various software for Gantt charts, which is the right one for you?
In this guide, we'll take a close look at five options.
Here are our top picks for the best Gantt charts software for small businesses:
---
What to consider when choosing Gantt chart software
Look for a project management app that carries built-in Gantt chart features and also supports the following:
1. Drag-and-drop functionality
When plans change, which happens quite a lot in project management, the schedule may have to be adjusted, too. At some point during the execution phase of the project management process, you may have to move tasks around or extend the duration of certain activities.
You want a tool that allows you to simply drag and drop items when making changes to the Gantt timeline.
2. Real-time collaboration
Effective and constant communication is integral to team collaboration. It's a project management best practice enabled by real-time updates, alerts, and notifications available in the best project management software systems today.
Features such as instant messaging, group chat, and live social feeds enable teams to communicate in real time, while document storage and file sharing facilitate project information sharing among stakeholders.
3. Integration with third-party applications
You want a Gantt chart software option that offers just the right amount of project management features, including project planning tools, a Gantt chart template library, data analysis and visualization tools, scheduled and on-demand reporting, and so on.
If you have existing software you want to keep using, such as Salesforce, Slack, Zoom, or Zendesk, you should consider a Gantt system that allows easy integration with these third-party tools.
---
5 best Gantt chart software options for small business
Keeping all that in mind, here are some of the top Gantt chart tools to consider. They're listed in no particular order.
---
1. TeamGantt
The Gantt software of choice for one million users from different industries around the world, TeamGantt works for teams of all types and experience levels. It features:
Drop-and-drop interface: Reorder tasks and change due dates with just a few clicks.
One screen for all projects: View all projects in one Gantt chart to identify any conflicts between projects.
Tabs for team availability and workload visibility: With an availability tab that's easy to access, you can distribute workload fairly among team members and prevent burnout.
In-app communication system: Find document and project updates in their respective workspaces, which you can then share with relevant stakeholders.
One-click reporting: Generate reports with just a click to understand overall project health and spot tasks that are running late.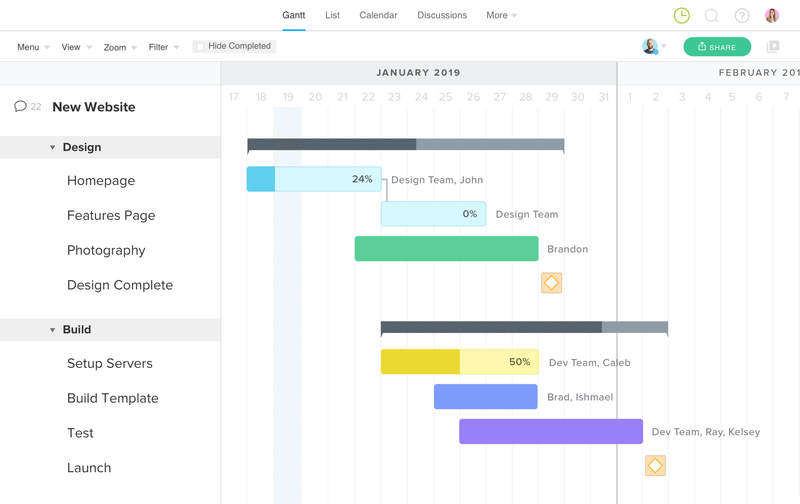 TeamGantt offers two paid subscriptions: Standard Team and Advanced Team, priced at $64.75/month and $89.75/month, respectively, for teams of up to five members.
Both offer unlimited Gantt charts and resources, workload forecasting, filtering, project history and undo, and daily email reminders, among many other features.
Advanced Team carries time-tracking features that Standard Team does not, such as manual time entry and detection of over-budget hours. TeamGantt also has a free plan with limited features.
Read The Blueprint's full TeamGantt review
---
2. Wrike
Used by several big-name brands such as Dell, Airbnb, Siemens, and Ogilvy, Wrike is a versatile collaboration app with features that support how businesses across industries work:
Dynamic, drag-and-drop timelines: Create timeline plans, adjust them as necessary, and share with team members so everyone knows what's going on.
One platform, multiple projects: Stay on top of several projects from one central console.
Information from Microsoft Project: Import Microsoft Project tasks, including dependencies, durations, and responsible individuals, into Wrike to streamline project management.
Integration with other business apps: Wrike integrates with 400+ apps, including G Suite, Microsoft Teams, Salesforce, Jira, Box, and Slack.
Pre-built project management templates: Wrike offers templates for free. It has available project management templates for project scheduling, phased projects, professional services management, product launch, ticketing and helpdesk, creating a project communication plan, and more.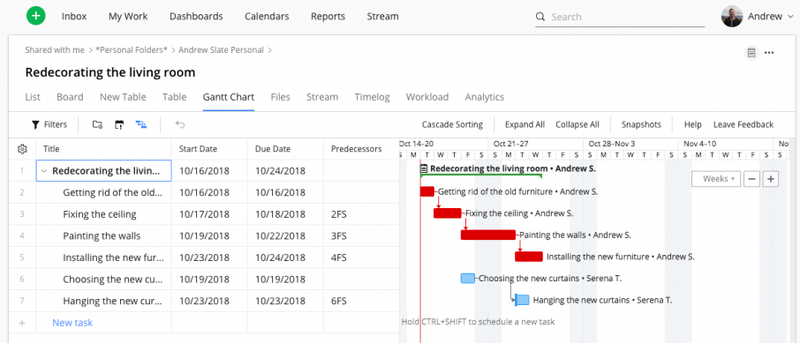 Wrike has paid packages charged on a per-user, per-month basis: Professional at $9.80/month and Business for up to 200 users at $24.80/month. Professional features Gantt charts, task and subtask management, file sharing, desktop and mobile apps, and 15GB of video uploads.
Business offers everything that Professional offers, plus scheduled notifications, shared real-time reports, custom workflows and fields, reporting templates, calendars, time tracking, branded workspace, and many more features.
If you need a more comprehensive solution that can accommodate an unlimited number of users plus advanced security, contact the Wrike sales time to learn more about their Enterprise subscription.
Wrike also offers a free plan, which allows up to five users.
Read The Blueprint's full Wrike review
---
3. Smartsheet
Smartsheet is an enterprise-grade work platform trusted by millions of users and tens of thousands of brands in 190 countries around the world. It comes with powerful, intuitive features that include:
Drag-and-drop Gantt bars: Move Gantt charts from one spot in the timeline to another and automatically adjust the underlying due dates. Color-code the bars by task type, phase, or owner to keep them organized.
Automated alerts and notifications: Keep everyone aware of due dates and upcoming milestones through alerts and reminders.
File storage and sharing: Upload relevant project files and documents for sharing with the rest of the team.
Anytime, anywhere access via the Smartsheet mobile app: Access your Gantt charts, reports, and other work files wherever you are using your Android or iOS device.
Integration with other work applications: Smartsheet integrates with commonly used tools such as Outlook 365, Microsoft Teams, Google, Salesforce, Slack, and Skype for Business.
Smartsheet offers four plans:
Individual: One-user subscription priced at $14/month, if paid annually. Features include one dashboard, limited free collaborators (users that can view and edit sheets, view reports, and view dashboards shared to them by licensed users), alerts and reminders, notifications, automation, forms, and mobile apps.
Business: For teams, priced at $25/month per user, if paid annually. Includes all Individual features, plus unlimited free collaborators, multiple dashboards, templates, system and user administration capabilities, such as activity logs and group management.
Enterprise: For organizations that need a more comprehensive work solution. Call the sales department for pricing details. Includes all Business features, plus single sign-on (SSO), directory integration, chargeback reporting, enterprise access controls, support by phone, on-demand training, and more.
Premium: All Enterprise features plus additional premium options. Contact sales for pricing.
Read The Blueprint's full Smartsheet review
---
4. monday.com
Used by 100,000+ companies worldwide, including Uber, Adobe, Costco, Schneider Electric, and Unilever, monday.com is a project management tool for all types of project teams — big or small, experienced or otherwise. It's visually appealing, easy to use, and offers features that include:
Intuitive Gantt charts: Plan your project's schedule, move Gantt bars as necessary, extend task deadlines, assign a task to someone else, organize tasks using color codes, and visualize the project's overall progress — all these using a platform that requires no steep learning curve.
Automated process notifications: Make sure important tasks and information do not fall through the cracks with automated process notifications.
Centralized, in-app communication: Email, although a vital communication tool, can hamper collaboration. Some people may get left out of email threads, and some others may be added to threads not relevant to them. With monday.com, you have one place for all communications, which authorized parties can access from anywhere and respond to 24/7.
Integrations and custom-built monday.com apps: Slack, Outlook, Zendesk, Salesforce, Jira, Facebook Ads, Microsoft Teams, and Typeform are just some of the apps that monday.com integrates with. You can also build your own monday.com apps (custom building blocks for extending monday.com functionality), such as integrations, board views, and dashboard widgets.
Customizable templates: Use ready-made templates so you don't always start with a blank board. Available templates can be used to track daily tasks, manage freelance projects, plan an event, track a project, create a content calendar, and more. Customize the templates as you see fit.

Pricing for monday.com plans are as follows:
Basic: Starts at $39/month for five users, if paid annually. Features include unlimited boards and free viewers, 20+ column types, mobile apps, file storage of up to 5GB, activity log of up to one week, and two-factor authentication.
Standard: Starts at $49/month for five users, if billed annually. Includes all Basic features, storage space of up to 20GB, a six-month activity log limit, multiple view types (timeline, calendar, map, and kanban), forms customization, advanced search, and more.
Pro: Starts at $79/month for five users, if paid annually. Includes all Standard features, plus up to 100GB of storage space, a one-year activity log limit, workload management, time tracking, custom tags, private boards, and Google authentication.
Enterprise: Contact sales for pricing details. Includes all Pro features, plus 1TB of storage space, a five-year activity logging limit, 25 boards per dashboard, automation and integration actions of up to 250,000 per month, single sign-on (SSO), session management, audit log, HIPAA compliance, private workspaces, insights on work performance, and many more features.
Read The Blueprint's full monday.com review
---
5. Mavenlink
Mavenlink is an award-winning project management system suited for enterprises looking for a feature-rich platform with a user-friendly interface. It offers options including:
Drag-and-drop Gantt charts: Mavenlink's online Gantt charts illustrate how a project, tasks and milestones included, is tracking vs. the project management plan. Create dependencies between tasks, make changes as needed to task deadlines, and spot which tasks need your attention.
Baseline snapshots: Compare your project's timeline against a baseline, benchmark, initial plan, or any timeline snapshot saved earlier in the project.
Project plan templates: Mavenlink has built-in templates you can use for various project activities, such as tracking non-billable tasks, understanding the effects of Gantt chart dependencies, PTO and holiday scheduling for more effective resource management, selecting the right vendors, and creating a product launch plan.
Integrations: Mavenlink integrates with Salesforce, Jira, Slack, Xero, HubSpot, NetSuite, Google Apps, Microsoft Dynamics 365, and many more.
Centralized platform for contextual collaboration: With Mavenlink bringing together various task-critical collaboration apps in one platform, teams can easily centralize communication, highlight critical information, and meaningfully collaborate.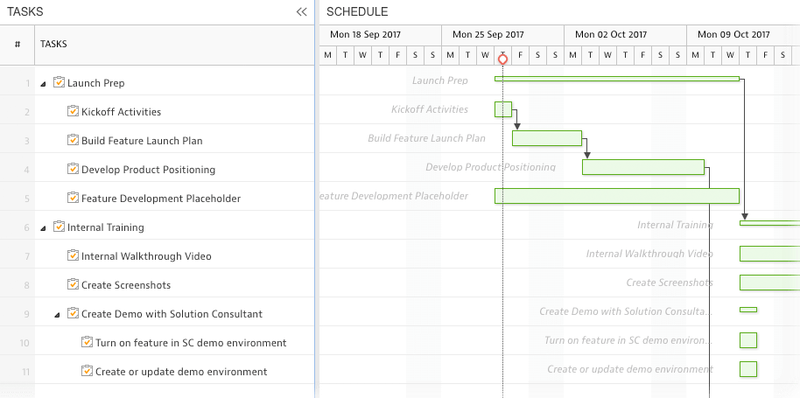 Mavenlink has four pricing plans:
Teams: Includes features such as task and schedule management, Gantt charts and task dependencies, critical path analysis, project workspace, activity feed, file sharing, public and private messages, mobile app, access permissions, custom branding, and up to 10GB of storage space.
Professional: Includes all Teams features, plus project plan templates, change request management, time and expense tracking, budgeted tasks and projects, invoicing and online payments, time cards and expense reports, and up to 50GB of storage space.
Premier: Includes all Professional features, plus resource allocation and scheduling, availability forecasting, portfolio management, project baseline and variance analysis, job costing, cost and bill rates, real-time analytics, and up to 100GB of storage space.
Enterprise: Includes all Premier features, plus custom reporting, data visualization, trend analysis and forecasting, single sign-on support, audit logging, and storage of up to 1TB.
As of this writing, prices aren't listed on the Mavenlink pricing page, so contact sales for more information. Ten-day free trials are available for both the Teams and Professional plans.
Read The Blueprint's full Mavenlink review
---
Choose the right Gantt chart software for your projects
When looking for a Gantt chart system for your projects and teams, find a tool that supports not just Gantt charts.
In the end, you want a versatile project management platform that can bring together multiple tools in one place, so teams can better collaborate, communicate in real time, and work as one toward the achievement of your project's goals.
Don't forget: Test drive multiple project management software options before making a commitment.
View more information: https://www.fool.com/the-blueprint/gantt-chart-software/