Spiritual Warfare-Part Seven
About this show
Creator:
Pastor Richard D. Dover
Location:
Locally Produced
Rating:
General audiences - PG/TV-G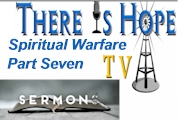 Spiritual Warfare-Part Seven
Ultimate Power-Spiritual Authority
Senior Pastor Richard D. Dover
Seattle Open Door Church
In Spiritual Warfare, Parts Six and Seven Pastor Rich speaks on Christians having the ultimate power to overcome Satan.
Christians have all the weapons they need to fight Satan, they have all the protection they need (covered by the blood of Jesus Christ), they are more than conquerors, and they are overcomers. Ultimately the battle is the Lord's. As Christians we need to walk in the authority that Christ has given us.
Seattle Open Door Church
625 SW 149th St
Burien, WA 98166
www.sodc.tv
Give Pastor Rich a call at 1-866-WANTGOD
Member Login
Welcome!
Hey viewers and producers! Be sure to register.

Don't confuse registration with membership!

Registration will allow you to vote for shows and leave comments on the website. You still need to become an SCM member to produce shows.

How to Use the New Site