Love Series-Love is Not, Part Two
About this show
Creator:
Pastor Richard D. Dover
Rating:
General audiences - PG/TV-G
Scheduled airings
This show has not aired nor is scheduled to air in the future.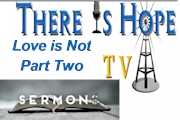 Love Series
Love is Not, Part Two
Pastor Richard D. Dover
Seattle Open Door Church
This is the Introduction to the Love Sermon Series. In this series Pastor Rich will be talking about What is Love, What Love is Not, The Love of the Father, Being Ambassadors for Christ.
Love is Not:
Abuse, Condoning Sin, Deception, Just Feelings, Wishy Washy, Wearing a Mask.
In 2 Corinthians 5:14-21 there is a theme in regards to love. In 2 Cor 5:14-15 Apostle Paul says the love of Christ controls (impels, drives, compels) us to no longer live for ourselves. In 2 Cor 5:17 states that because of the love of Christ and us receiving the love of Christ, we become new creations in Christ Jesus. In 2 Cor 5:18-19 Apostle Paul states that because we have become new creations and are born again, God has given us the gift of reconciling others to Christ. In 2 Cor 5:20 we have become Ambassadors for Christ.
So everything you see about God's love is about us being changed and reaching out to others so they can change. We become God's Workmanship. God's love is not about continuing in ongoing, willful, rebellious, sin.
Seattle Open Door Church
625 SW 149th St
Burien, WA 98166
www.sodc.tv
Give Pastor Rich a call at 1-866-WANTGOD
Member Login
Welcome!
Hey viewers and producers! Be sure to register.

Don't confuse registration with membership!

Registration will allow you to vote for shows and leave comments on the website. You still need to become an SCM member to produce shows.

How to Use the New Site